Births Rise as Parents-to-Be Renew Confidence in Economy
Stephanie Armour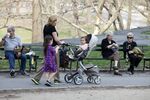 An increase in the number of babies being born provides the latest sign that the U.S. economy is mending from the worst recession of the post-World War II era.
Births rose less than 1 percent to 3.96 million in 2012, the first annual increase since the number tumbled from the historic high reached just as the economic recession began in December 2007, according to provisional data released today by the U.S. Centers for Disease Control and Prevention in Atlanta.
Lower birth rates have been tied to economic distress, with declines also seen during the Great Depression of the 1930s and the recession in the early 1970s. Typically in these economic situations couples put off marriage or childbearing because of losing a job or lowered income, resulting in fewer births.
"We'd expect to see a bounce once people feel more upbeat about the economy," Mark Mather, a demographer with the Population Reference Bureau, a nonprofit research and academic organization in Washington, said in a telephone interview.
The economy is slowly recovering from an economic downturn that sent the unemployment rate to a 26-year high of 10 percent in October 2009. The jobless rate has since fallen to 7.5 percent and home prices rose in the 12 months through March by the most in seven years.
The CDC report is provisional and doesn't include more detailed data such as rates in change of births by age, said Brady Hamilton, a statistician at the National Center for Health Statistics in Hyattsville, Maryland.
Leveling Off
"There are lots of questions, but what we do know is there was a large decline through 2007 and 2011 and now it's leveled off," Hamilton said in a telephone interview. "There are lots of possible explanations."
The national fertility rate, which indicates the number of babies a woman would have through her childbearing years, remained unchanged at 63.2 births for every 1,000 women ages 15 to 44 years old. That rate has declined from a high of 69.3 in 2007, then slowed from 2010 to 2011 before stabilizing.
States that experienced the largest economic declines in 2007 and 2008 were most likely to see relatively large fertility declines from 2008 to 2009, according to a 2011 analysis by the Pew Research Center.
Stabilizing birth rates don't necessarily mean economic confidence is high. It may be better, though, since rates have stopped falling, Mather said.
Before it's here, it's on the Bloomberg Terminal.
LEARN MORE