Westeros or Bust: The Rise of 'Game of Thrones' Tourism
by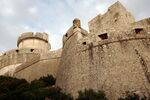 In his 1982 novel The Names, Don DeLillo famously observed that "tourism is the march of stupidity." Sure, but had he ever experienced firsthand the overcast and windswept moodiness of Winterfell, the ancestral home of the House of Stark? Or the soaring gothic castles of the royal capital of Westeros: King's Landing, overlooking the scenic Blackwater Bay?
The otherworldly settings from HBO's popular, if totally sadistic, fantasy series Game of Thrones are actually located in Northern Ireland and Croatia, among other places. And just as the fictional Middle Earth from The Lord of the Rings trilogy mushroomed a $3 billion tourism industry in New Zealand in 1999 into a $5.6 billion industry by 2011, travel companies are sprouting up, like prowling Wildlings, trying to cash in on the boom in viewers who want to walk in the bootsteps of their favorite sword-wielding characters from the TV adaptation of George R.R. Martin's fantasy series.
In late May, Viator, a company based in San Francisco, launched two new tours: a three-hour walking tour of the Old Town area of Dubrovnik, Croatia, site of the fictional King's Landing; and a tour of the Giant's Causeway near Belfast, Northern Ireland, home to "Ballycastle" and "Lordsport Harbour." According to the official website, you can "learn all about the Targaryens, Baratheons, Starks, and other noble families from your expert local guide." In Dubrovnik, the cost of day trip is roughly $72 per person. In Belfast, it's more than $100.
HBO is itself launching a touring exhibition of authentic Game of Thrones costumes, weapons, and various props—including a replica of the Iron Throne, of course. The exhibit begins its 10-day run at the Titanic Museum in Belfast on Saturday, where some estimate a turnout of more than 20,000 visitors. The exhibit will eventually make stops in Toronto, New York, São Paulo, and Amsterdam.
Those viewers still despondent over the bloody ending of the show's most recent episode, "The Rains of Castamere," should know that the touring "trove of artifacts" includes only items from seasons 1 and 2—not 3. You can hope to be spared visual reminders.
Before it's here, it's on the Bloomberg Terminal.
LEARN MORE