business
Two Words That Go a Long Way
Roxanne Hori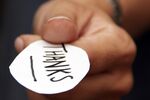 Small but mighty.  Those words are often spoken in reference to a person or thing's seemingly incongruous size and strength—a signal that they are capable of much more than you might guess from appearances alone.
That description can also apply to gestures. Take "thank you," for example. In recent weeks, as we wrapped up the academic year, I have heard or seen those two small words in a number of places. In each case, they had a tremendous impact.
Sometimes it was a simple handwritten note—on other occasions, public praise of a person or group for work well done. In each case, it is impossible to overstate how much that gratitude meant. We can all stand to be reminded of this, but the message is particularly important to graduating students .
As you contact administrators and faculty before you depart for the summer, please take a few minutes to reflect on the people who have had an impact on you. Have you thanked them for their time and caring? Have you thanked the professor who made time to help you with a project unrelated to class?
"Thank you" is a small way to show appreciation for the support provided to you. The same is true for your family, loved ones, and individuals in your network.
When still in the job-search mode, it is also important to thank people. Your career center and anyone else who is helping you with your job search will always remind you to send a thank-you note.  Even if you have thanked the interviewer or networking contact in person, it is important to send a follow-up thank-you note. It does not need to be lengthy, just sincere.
As you depart for your summer internship or get ready to graduate, here's a thank you on behalf of all of us who have the privilege to work with you as students. Thank you for sharing your ideas and a little bit of your life with us. We wish you much success this summer and beyond.
Join the discussion on the Bloomberg Businessweek Business School Forum, visit us on Facebook, and follow @BWbschools on Twitter.
Before it's here, it's on the Bloomberg Terminal.
LEARN MORE