The Treasury Sells More GM Stock. (We're Still in the Red)
by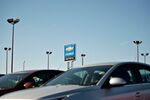 The stigma of "Government Motors" continues to wane. The U.S. Treasury said today it will sell an additional 30 million shares of General Motors, which is scheduled to rejoin the S&P 500 index on Thursday. At the same time, the United Auto Workers' GM medical benefits trust intends to sell 20 million shares.
Is Detroit free of Uncle Sam? Not quite. As of April 30, the government still held 241.6 million GM shares, or 16.4 percent of the Detroit automaker and a little less than half the 554 million shares the government owned after GM's initial public offering in 2010.
The Treasury intends to unload its entire position by March 2014, with periodic sales determined by market conditions—although it will be a stretch for taxpayers to turn a profit on the GM investment. To date, the government has recouped (PDF) about $30.7 billion of the $49.5 billion in bailout funds GM received. Company shares have gained 21 percent this year, outpacing the S&P 500, topping the $33 IPO share price earlier this month. The government would need to sell its remaining shares at an average price of about $50 to break even on its investment; even analysts who like the stock don't think it will get there any time soon.
Administration officials have said for years that the Detroit bailout was designed to save some one million jobs and retain a U.S. auto industry more than it was to break even or show a return. In April, the department sold 58.4 million shares, netting $1.6 billion. Five months earlier, it sold 200 million shares back to GM for $5.5 billion. The new sale should recover at least $1 billion, based on GM's current share price.
The latest sale announcement was timed with the news that Standard & Poor's will restore GM to its prominent index after trading closes on June 6, replacing Heinz, which is being acquired for $23 billion by 3G Capital and Warren Buffett's Berkshire Hathaway. GM will be included in S&P's 500 and 100 indices, the latter of which is also welcoming a second veteran of the federal Troubled Asset Relief Program (TARP)—American International Group—on the same day as GM.
Before it's here, it's on the Bloomberg Terminal.
LEARN MORE