The Moto X Factor: To Catch Apple, Google Needs to Redefine Smartphones
Bill Carmody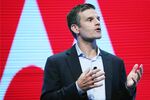 Google recently announced plans to unveil a new Motorola smartphone called Moto X by October, in an effort to take market share from Apple's iPhone. But Google's Motorola unit has a long way to go to catch Apple. Motorola currently has less than 5 percent of the smartphone market, while Apple is way ahead with 19.1 percent, according to IDC. So how does Moto X grow in this brutally competitive marketplace? By following Samsung's playbook, that's how.
In 2011, Samsung had 19 percent of the smartphone market and was barely eking out a lead over Apple's 18.8 percent. Yet the following year, Samsung grew to 30.3 percent, while Apple remained basically flat at a 19.1 percent market share. What happened? While some will argue that Tim Cook has struggled to continue Steve Jobs's legacy, it's Samsung that has really stepped up its game and grabbed market share from struggling smartphone makers Nokia and BlackBerry.
Samsung reframed the iPhone brand from the incredibly "cool" gadget to the "safe" choice for the masses, while the Galaxy S II and III smartphones were portrayed as the next innovations in mobile phone technology. Granted, it helped Samsung that the iPhone 4S was not much more than the iPhone 4 with the added Siri feature, and the iPhone 5 had forcibly removed the popular Google Maps app and replaced it with a buggy Apple program. Meanwhile, Samsung introduced new features that excited consumers, such as taking a picture and sharing it with friends.
For Moto X, it would be a mistake to focus on small, incremental improvements that have caused Nokia and BlackBerry to give up market share to Samsung, among others. Motorola, given its unique history and new owner (Google), has a shot at rebranding itself as the innovation leader and the company you can count on to leverage Google's inventions. Motorola has to come up with its own inventions, too, and it has to do Samsung one better—it is, after all, a challenger brand.
Being a successful challenger begins with a clear brand identity. What does Moto X stand for?
Given the buzz around wearable technology such as Google Glass and the more established Nike+ FuelBand, Motorola should tout its superior integration of Google technology. Even with the Android operating system being open source, Motorola is in a unique position, because of its parent, to lead the industry with smartphone advances. The very name Moto X pays homage to Google's "Solve for X" whose mission, according to its website, is to provide "a forum to encourage and amplify technology-based moonshot thinking and collaboration." Or, as TechCrunch points out, "What the Android world needs is a phone as exciting as the original RAZR with the magic of a StarTAC."
So what does that look like in a smartphone?
The Moto X will be "contextually aware"—meaning the phone will intrinsically know if it's on, in a pocket, on a desk, in a car, etc. Moto X will be able to detect your next movement. Over time, Motorola will be able to leverage this data to create a better experience—especially as developers are empowered to use it in their own app development efforts.
To challenge the status quo and come up with bigger and bolder ideas, the Moto X must redefine what the smartphone is today—including decisions on what not to include. This is exactly what Apple and Samsung did during their respective growth booms. Apple made the bold move of sacrificing the sacred tactical keyboard, which had made BlackBerry famous, while Samsung chose to ditch its own operating system to embrace the open source operating system of Android.
Consumers love a good fight—especially a good "David vs. Goliath" story. So give 'em what they want. Embrace the underdog status. With a steady hand, strategic planning, and a marketing scheme that outflanks the dominant players, team Motorola just may be the smartphone comeback kids.
Before it's here, it's on the Bloomberg Terminal.
LEARN MORE