Legal Trouble for Chipotle, With Too Many Chefs in the New-Concept Kitchen
By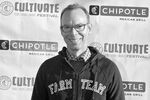 Chipotle has become the foodie's fast-food restaurant. Its founder, Steve Ells, graduated from the Culinary Institute of America and found a way to offer burritos made to order with fresh ingredients at a reasonable price. He also hired other well-known chefs, such as Kyle Connaughton, who used to head one of the world's most acclaimed restaurants, the Fat Duck, in Britain. And that's when Chipotle's trouble may have started.
On Monday, just as Chipotle was announcing that it would be opening several more of its ShopHouse restaurants serving Southeast Asian food, Connaughton filed a lawsuit (pdf) in New York over an idea to launch restaurants serving ramen noodles. The suit, which the New York Post first reported yesterday, accuses Ells of misleading Connaughton about the involvement of another high-profile chef, David Chang, who owns Momofuku Noodle Bar and other restaurants.
Connaughton was fired from Chipotle and is suing for wrongful termination and seeking damages. Chipotle says it doesn't comment on pending litigation. Sue Chan, a spokesperson for Momofuku, writes in an e-mail: "Momofuku is not a party to the lawsuit and has no comment. We hope the parties work out their differences."
The story, according to the lawsuit, began in 2008 when Chang had a deal of some sort to develop a fast-food ramen shop for Chipotle. That sounds promising, doesn't it? But apparently Chang and Ells couldn't come to an agreement about the restaurant and parted ways. Meanwhile, Connaughton had come up with his own idea for a ramen shop, and in early 2011 he joined Chipotle to create it for the chain.
In the lawsuit, Connaughton says he had no idea Chang had been involved in a similar effort until October 2012, when Chipotle's own marketing executive allegedly told him that "Momofuku will sue Chipotle when the ramen concept opens." At that point, Connaughton claims he feared he would be accused of stealing Momofuku's ideas for the ramen shop and his reputation would be ruined. Connaughton says he complained to Ells and was fired in November.
Ells, according to the suit, told Connaughton he was no longer interested in opening any ramen shops. And, alas, Chipotle has made no public mention of them. But the chain will have eight ShopHouses open in 2014.
Before it's here, it's on the Bloomberg Terminal.
LEARN MORE