pursuits
Introducing Whistle, a Fitbit for Dogs
By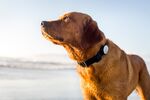 Every so often there's a new gadget or service that makes one question the collective sanity of Silicon Valley and wonder where exactly the seismic and surreal changes in the high-tech industry are leading us.
Exhibit A: a new device called Whistle, which tracks the health and well-being of one's pet dog.
Let's go ahead and call this the official start of the Quantified Pooch Movement. Just as "quantified self" devices like the Fitbit wristband monitor a wearer's heart rate and sleep cycles, the silver, disc-shaped Whistle sensor fits onto Fido's collar and tracks his activity levels.
Whistle, a year-old San Francisco startup that makes the device and will sell it for now only on Whistle.com, has developed the accompanying smartphone application that maps the dog's activity levels against averages for the animal and breed. Then Whistle makes that data available to the dog's owners and veterinarian, who will presumably use it to supplement the fact that the dog has uncharacteristically stopped eating and started pooping in the living room.
"Our goal is to add years to your dog's life," says Ben Jacobs, Whistle's chief executive. Jacobs and his co-founders have observed something predictably true about the $50 billion-a-year pet industry: Dog and cat owners will buy absolutely anything. (Disclosure: I once outfitted my cat with a "catcam" to monitor his movements.) They have tapped some equally observant investors, including Jason Krikorian, the co-founder of Sling Media and now a partner at DCM Ventures, and raised $6 million in seed funding.
The Whistle device will start shipping this summer, but if all goes according to plan, Jacobs envisions a whole kennel full of products. (Sorry.) There will be a collar sensor for cats, likely coming next year, so owners can conclusively prove that Mr. Whiskers sleeps 22 hours a day. Down the line are gadgets like food bowls that will monitor a pet's eating habits.
"Many people think of their pets as their child," says Jacobs, who, while only 26, has perfected the earnestness one expects while discussing the well-being of pets. "The vast majority of pet owners want to know the answers" to their pet's health questions.
We should add that Whistle has forged relationships with several esteemed academic institutions, including University of Pennsylvania's Veterinary Clinical Investigations Center, and set up an advisory council of vets across the country. The Whistle device will cost $99.95 and is available for pre-order today. If you are one of the legions already quantifying yourself with a health-monitoring bracelet, and you really need to know whether your dog's internal biorhythms are as robust as your own, then by all means, go fetch one.
Before it's here, it's on the Bloomberg Terminal.
LEARN MORE