Explosion at New York-Area Business School Injures Eight
Louis Lavelle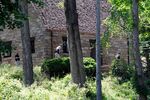 An apparent gas explosion at a business school in South Nyack, N.Y., yesterday injured eight people, including a female student who leaped from the second floor and a police officer who was near the building when the blast occurred.
The explosion happened shortly before noon Tuesday at Nyack College, about 30 miles north of New York City, in Sky Island Lodge, a building that houses the School of Business & Leadership. Five employees and two students were in the building when the explosion took place, according to the school. All seven were taken to Nyack Hospital, where they were treated for non-life threatening injuries and released, the Journal-News reported.
Michael Donovan, a spokesman for Orange & Rockland Utilities, said the cause of the blast has not been determined but that there was a strong odor of gas in storm drains when utility workers arrived at the scene, leading to the assumption that it was a gas leak. Utility workers were out all night testing gas mains and found evidence of recent excavation and heavy-equipment work that appears to have damaged a gas line that feeds the Nyack College gym, Donovan said. The area is now the "primary focus" of the investigation, he said.
The Journal-News reported that the building, a former carriage house for a local country club that was purchased in 2000 and renovated, sustained "severe" damage, including damage from a fire that broke out after the blast. A spokesperson for the school could not be reached for comment.
Nyack College offers both graduate and undergraduate business degrees, including an MBA.
Join the discussion on the Bloomberg Businessweek Business School Forum, visit us on Facebook, and follow @BWbschools on Twitter.
Before it's here, it's on the Bloomberg Terminal.
LEARN MORE