Biggest Drop in Pay Since 1947 Is 'a Zigzag,' Not a Calamity
By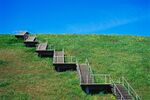 The U.S. Bureau of Labor Statistics said on Wednesday that hourly compensation fell in the first quarter by the most since record-keeping began in 1947. Right away I got an e-mail from a colleague: "Recession redux?" The investing website Zero Hedge said the drop "poured cold water over all recent hypotheses that the U.S. worker's plight is improving."
Nope, no recession, no cold water. The drop was a fluke. Pay had to fall a lot because it had been artificially boosted in the last quarter of 2012 by companies and workers trying to beat the fiscal cliff tax hikes.
"It was a zigzag," says Michael Englund, chief economist of Action Economics in Boulder, Colo. Taking the upward zig in the fourth quarter (11.8 percent annualized) together with the downward zag in the first quarter (3.8 percent annualized), hourly compensation growth is right on its long-term trend, says Englund. The growth in hourly compensation over the past year as a whole was 2 percent, according to the BLS.
Upper-income workers who usually get their bonuses in January or February asked to have them paid in December to beat the tax increases that they expected as part of the much-feared fiscal cliff. Turns out they were right to do so: The tax deal created a new bracket of 39.6 percent for single filers with taxable income above $400,000 and married filers with income over $450,000.
Investors also took capital gains and received special dividends at the end of 2012 to beat the fiscal cliff tax hikes.
All the income they received, albeit at lower rates, pumped up their tax payments this year. Englund says federal income tax receipts this April were 28 percent higher than in April 2012.
In other words: false alarm. A Bloomberg National Poll released on Wednesday found that Americans are feeling more secure about their finances with stock and home values rising.
Meanwhile, the BLS also reported today that workers' productivity—output per hour—grew 0.9 percent over the 12 months ended in March. That compares to an average annual gain of 2.3 percent over the 11 years through 2011, "indicating companies are reaching the limit of how much efficiency they can wring from existing staff," Bloomberg reported.
Before it's here, it's on the Bloomberg Terminal.
LEARN MORE