An Executive-Recruiting Giant Falls on Hard Times
By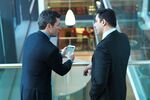 It's tough to land a new job these days, but it can be even harder to get a job getting someone else a job. That's what executive-recruiting firms have discovered, as economically squeezed companies hire fewer people and handle more candidate searches on their own.
The downturn has been particularly brutal for Chicago-based recruiter Heidrick & Struggles, which saw its lackluster shares spike this week after it confirmed that it has been approached by a potential buyer. The company said the offer prompted its board to "explore strategic alternatives"—a common bit of boilerplate often used when a company wants to see if it can find an even sweeter offer. A Heidrick & Struggles spokeswoman said on Wednesday that the company had no further comment. The Financial Post of Ontario reported on Monday that Heidrick & Struggles had received proposals from at least three private-equity firms, with an offer of $18.50 to $20 per share from Blackstone Group the apparent favorite so far.
Interest from potential buyers comes against a backdrop of dreadful business for the recruiter. Overall sales at the firm were off 16 percent in 2012—with revenues in Europe dropping 30 percent—as executive-search confirmations that form the the vast bulk of the company's business dwindled. The average revenue from a completed search, at about $103,000, has fallen more than $10,000 over the past year. The company's profit margin also narrowed to 1.2 percent in the fourth quarter last year, Barrington Research analyst Kevin Steinke noted in February. (Other recruiters, in light of the weak market for C-suite searches, are seeking to diversify their business: Korn/Ferry, for instance, expects that 40 percent of its fiscal 2014 revenue will come from talent-management efforts beyond search.)
A deal for Heidrick is more likely to come with a financial buyer than a strategic one, William Blair & Co. analyst Timothy McHugh wrote in a note on Monday, before Heidrick confirmed the approach. "It would be challenging to turn around a company like this in the middle of a go‐private transaction, but Heidrick & Struggles' profit margins are depressed, the company still has a strong brand name, the balance sheet is relatively unleveraged, and our quarterly surveys suggest that demand has stabilized during the last few quarters, so we could see the appeal to some private equity investors," McHugh wrote.
One issue in any deal for Heidrick is whether the firm would ultimately be owned by its recruiters, as is cross-town competitor Spencer Stuart—owned by "partners" selected from among its 1,250 employees. If a private-equity shop acquired Heidrick, McHugh suggested it would create an opportunity for rivals Korn/Ferry and CTPartners Executive Search because "private equities' insistence on being paid before employees could be a tough conflict with the individualistic, rain‐maker mentality of many executive search professionals." Those rainmakers may just find themselves new jobs.
Before it's here, it's on the Bloomberg Terminal.
LEARN MORE