Sprint Said to Mull Delaying SoftBank Vote to Give Dish Time
Serena Saitto and Scott Moritz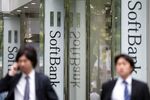 Sprint Nextel Corp.'s board is considering delaying the June 12 shareholder vote on SoftBank Corp.'s takeover proposal as Dish Network Corp. works to firm up a $25.5 billion counterbid for the company, according to two people familiar with the matter.
Sprint is seeking a binding offer from Dish, rather than the preliminary bid it made in April, including details on financing sources, said the people, who asked not to be identified because the talks are private. For now, the board is endorsing SoftBank's $20.1 billion offer, which it approved in October after months of friendly negotiations.
Bob Toevs, a Dish spokesman, said his company is still negotiating with Sprint's board and management, and working with the carrier to complete due diligence for the deal.
"We are confident Sprint will recognize the economic and strategic superiority of the Dish proposal," he said.
Charlie Ergen, Dish's billionaire chairman, made the unsolicited bid for Sprint as part of an effort to expand into the mobile-phone industry. He wants to pair his satellite-TV operations with the third-largest U.S. wireless carrier, letting him provide a bigger bundle of services to customers. SoftBank, meanwhile, is counting on the deal to vault the Japanese company into the U.S. market.
Resetting Date
As part of its merger agreement with SoftBank, Sprint has 40 days to hold a shareholder vote on the deal from the date that its proxy statement was sent to investors. The document was mailed around May 3, suggesting that Sprint may have to work with SoftBank to set a later date.
The negotiations with Dish may ultimately lead SoftBank to boost its offer, said Jennifer Fritzsche, an analyst with Wells Fargo & Co. in Chicago. Sprint shares rose 0.6 percent to $7.26 today, putting it well above the amount offered by either suitor. Dish said in April its deal would include $4.76 in cash and 0.05953 share of Dish -- or $2.31 as of today's close -- for each Sprint share.
"The market is telling us we are getting a higher bid from SoftBank," said Fritzsche, who has the equivalent of a buy rating on Sprint.
Scott Sloat, a spokesman for Overland Park, Kansas-based Sprint, declined to comment, as did a SoftBank representative.
Finding Funds
Dish has lined up $9.3 billion in financing for the Sprint deal, people familiar with the matter said last month, though that isn't yet part of a formal offer. Dish raised about $2.6 billion in a bond offering managed by Barclays Plc, Jefferies Group LLC, Macquarie Group Ltd. and Royal Bank of Canada. The satellite company also received separate loans from the same banks, as well as the Bank of Nova Scotia, the people said.
Sprint gave Englewood, Colorado-based Dish access to its private financial information last month after the financing was obtained.
While Dish's bid price is higher, SoftBank has argued that the deal would load Sprint with too much debt. Tokyo-based SoftBank also is offering to provide Sprint with an $8 billion cash infusion, helping the carrier complete additional deals, such as its planned acquisition of Clearwire Corp.
Institutional Shareholder Services Inc., the biggest shareholder-advisory firm, recommended SoftBank's bid in a report last week, saying the deal would supply Sprint with the cash it needs to upgrade its network and compete with larger carriers. ISS said it couldn't determine whether Dish's offer was superior because it hasn't been presented to investors.
No Opinion
"Given the preliminary nature of the Dish offer -- and in particular that shareholders may not themselves affirmatively choose that offer over the SoftBank transaction, as Dish has not yet made its offer directly through a tender -- ISS has not developed a view," the firm said.
The companies have been waging a separate fight over Clearwire, a wireless-network operator that is majority owned by Sprint. Flush with the promise of SoftBank money, Sprint agreed to acquire the remainder of Clearwire in December for $2.97 a share. Dish countered at $3.30 in January, leading Sprint to offer $3.40. The satellite company then bid $4.40 last week in an attempt to acquire at least 25 percent of Clearwire and install three or more directors on the board.
Sprint said yesterday the board provisions would violate Clearwire's equity holder agreement and the law of Delaware, where the company was incorporated. Dish denied that today, saying the directors in question would be independent board members and could be nominated without infringing the equity holder agreement or legal restrictions.
"We remain confident that the Dish proposal is both actionable and clearly superior to the proposed Sprint merger," Ergen said in a letter to Clearwire's board.
Before it's here, it's on the Bloomberg Terminal.
LEARN MORE