No Mini-Fridge Left Behind: MBA's Business Recycles Dorm Room Junk
Francesca Di Meglio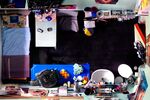 When Steven To saw the mountain of junk in the lobby of his dorm it was his aha! moment. To was moving in last June to start an MBA program at Northwestern University's Kellogg School of Management when he realized that much of the stuff ditched by departing students—including a working TV—still had a useful life. There had to be a better place for it than a landfill.
"Students, especially international ones like me, need this stuff," says To, who comes from Hong Kong. "Most international students don't have cars, and they don't know about places like Target and Wal-Mart because they don't live in the United States."
This month To, who will graduate in two weeks, is launching Move In Move Out (MIMO), a nonprofit that finds a new home for all that unwanted stuff.
During June, when graduation is looming and people are moving out of the dormitories, MIMO will collect whatever students want to trash. Then To and his colleagues will clean and sort the items and put them in storage. Around September, when students start moving in again, the items will be posted on MIMO's e-commerce website for resale. Proceeds from the sales go to charity; whatever does not sell will be donated to Evanston's Collection for the Homeless.
To used his undergrad business class to help refine the idea for MIMO. In a marketing class, he held focus groups and surveyed students to find out whether people would part with their stuff and buy second-hand items during move-in. As part of an entrepreneurship course, he considered the revenue model and organized a team that includes three classmates to help him.
To's employer in Hong Kong sponsored his degree, so he must return after one further year in the U.S. During that time, he'll train four undergraduate interns who will take over MIMO next year. To is also thinking beyond Northwestern.
"I'm focusing on making the business a success at Northwestern this year," says To. "Then we can try to roll it out in other places, like a franchise."
Join the discussion on the Bloomberg Businessweek Business School Forum, visit us on Facebook, and follow @BWbschools on Twitter.
Before it's here, it's on the Bloomberg Terminal.
LEARN MORE