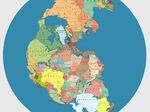 If the geopolitical divisions of the modern world had existed when Stegosauruses roamed the earth, the world might have looked something like this map by Italian blogger Massimo Pietrobon.
Pietrobon has overlaid today's borders over Pangea, the mega-continent of the early Mesozoic period. At the time, the land we now call Portugal bordered Canada, and the Brazilian coastline lay nestled in the Gulf of Guinea. The Caspian Sea was truly a sea, and Southern and Northern Eurasia were swung apart as if on a hinge. (Their fusion would later create the Alps and the Himalayas.)
Click through for a larger version.
Image courtesy of Massimo Pietrobon. Via Laughing Squid.