pursuits
Lululemon Surges Back by the Seat of Its Pants
By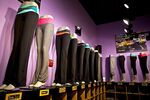 It took almost three months, but Lululemon has finally restocked its popular black Luon yoga pants—you know, the ones the Vancouver-based company recalled in March because they became see-through when the wearer bent over (a slight problem in yoga). Lululemon initially blamed the fabric's manufacturer, Eclat Textile, for the defect, which had affected 17 percent of its yoga pants. For its part, the Taiwanese company denied any fault, claiming it had made them according to the company's specifications.
Regardless of who is to blame, the whole ordeal had little impact on the company's business. Aside from an initial dip following the recall, Lululemon's stock has remained strong throughout most of this year. It's up about 18 percent since March and is trading near an all-time-high.
In a blog post, Lululemon announced that it's put more padding in the pants and promises to put them through 15 rigorous tests to make sure "you get great ass coverage (that's the scientific term)." Lululemon has also started measuring the amount of light that comes through its stretched fabric to make sure those downward dogs don't turn into accidental peep shows.
But quality concerns still plague the company, and the Luon pants weren't its first product with sheerness problems. In a comment thread beneath the blog post announcing the Luon's return, customers continued to questions other items."I tried on two colors of your [cropped leggings]…and found them to be extremely sheer," one person wrote. According to another, a self-described loyal customer for 10 years: "No offense here, but maybe you could have simply reverted to your old, completely-not-see-through formula." (This echoes sentiments I heard from other Lululemon shoppers in March.)
Lululemon hasn't mentioned any changes to its other products, but a company rep did respond to commenters' questions with a promise: "I will make sure a little bird chirps in the design teams ears with your feedback."
Before it's here, it's on the Bloomberg Terminal.
LEARN MORE