Exchange-Traded Funds for Skittish Gold Investors
by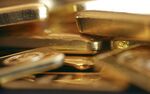 When the SPDR Gold Trust (GLD ) debuted in late 2004, it reached $1 billion in assets faster than any exchange-traded fund in history -- in three days. Assets peaked at $76.7 billion in August 2011, when GLD briefly outranked the biggest of the big, the SPDR S&P 500 ETF (SPY ).
GLD has come back down to earth this year. While it's still a huge ETF -- the world's fourth-largest, at $46 billion -- investors have pulled out $16.3 billion as of June 3, according to Bloomberg data. To put that in perspective, for all of 2012 the ETF with the most outflows was the iShares Barclays 1-3 Treasury Bond Fund (SHY ), with $3 billion. Investors have yanked more than five times that out of GLD; it's down nearly 16 percent and the year's not half over. GLD still boasts a 202.5 percent return since its inception, nearly triple that of the S&P 500.
The bright side: Gold's sell-off may present buying opportunities. Hedge funds boosted bullish gold bets by the most in two months as the U.S. economy expanded less than previously estimated, Joe Richter of Bloomberg News recently wrote .
Investors who are considering getting back into gold but remain a bit shell-shocked could consider the ETF Securities Physical Precious Metals Basket Shares (GLTR ). Like GLD, it owns physical metal rather than investing in it through futures. This ETF, however, invests in a basket of precious metals rather than only gold. It is production-weighted, which means that the amount of a metal held is based on the number of ounces produced per year (and adjusted semi-annually). Gold is 54.2 percent, silver is 32.4 percent, platinum is 7.6 percent and palladium is 5.8 percent.
Related stories:
Silver, platinum and palladium have industrial uses and to some degree can act as a hedge to gold if economic demand for them is strong. Palladium is up 5.9 percent for the year on strong auto sales. (It's used in catalytic converters.) That's hardly enough to reverse the terrible year in gold and silver, but diversification can help mitigate the risk of investing in just one metal.
Nervous gold investors may also be interested in the RBS Gold Trendpilot Exchange-Traded Note (TBAR ), which uses the precious metals equivalent of an anti-collision warning system. This ETN, issued by Royal Bank of Scotland Group Plc (RBS ), tracks the price of gold bullion while it is at or above its historical 200-day moving average. However, if gold spends five consecutive days below this average, the ETN will switch to cash via 3-month Treasury bills. It will stay in cash until gold spends five days above its 200-day moving average, at which point it will move back into gold.

Since its inception in November 2011, TBAR has switched to cash twice, which saved it from some of gold's worst dips. TBAR is down 5.3 percent so far this year, far less than GLD. The ETN switches expense ratios depending on what asset it is in. Investors will pay 1 percent when it is in gold and .50 percent when it is in Treasuries.
It's important to note that TBAR is an exchange-traded note, which is an unsecured debt obligation issued by RBS. All ETNs come with credit risk, which basically means you could lose all your money if RBS defaults or goes bankrupt. One benefit to using ETNs is that they have no tracking error, meaning their returns don't differ from what they're tracking. That's because the ETN issuer does not actually invest in, say, physical gold, but simply promises to match the return of the metal.
Eric Balchunas is an exchange-traded fund analyst at Bloomberg. More ETF data is available here .


Before it's here, it's on the Bloomberg Terminal.
LEARN MORE