China Pork Binge Aides U.S. Export Prospects After Year of Loss
Elizabeth Campbell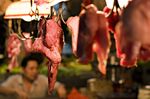 China's proposed takeover of pork producer Smithfield Foods Inc. last week may signal improved demand for a U.S. hog industry coming off the longest stretch of losses in four years.
"It's probably a good deal because it opens up more avenues to export pork," Max Schmidt, a 69-year-old farmer in Elma, Iowa, who raises about 50,000 to 60,000 pigs a year for slaughter. "This is a world economy."
Shuanghui International Holdings Ltd. agreed last week to acquire Smithfield for $4.7 billion. China is the world's largest pork consumer, and the U.S. exported 23 percent of its output last year, the most since at least 1960, government data show. U.S. producers lost $23 per hog on average in the year through the spring of 2013, the most severe losses since 2009, according to Purdue University in West Lafayette, Indiana.
China may import 326 million pounds (148,000 metric tons) of U.S. pork this year, 9.8 percent more than previously forecast, if the deal goes through, said Brett Stuart, the chief executive officer of meat researcher Global AgriTrends. Last year, China was the third-biggest buyer of U.S. pork, after Japan and Mexico.
Pork output from the U.S., the world's biggest exporter, is forecast to climb 1 percent this year, as global consumption of the meat reaches the highest since records going back to 1960, U.S. Department of Agriculture data show. China's pork consumption is climbing as its middle class expands and increases its protein intake at the same time that questions are being asked about the safety of the country's food supply.
About 20,000 U.S. producers and industry professionals will be gathering this week at the annual World Pork Expo in Des Moines, Iowa.
Hog Rally
Hog futures for settlement in July on the Chicago Mercantile Exchange rallied 1 percent in May, the second straight gain. The Standard & Poor's GSCI Agriculture Index of eight commodities fell 0.6 percent, and the MSCI All-Country World Index of equities also dropped 0.6 percent. Treasuries lose 2 percent, a Bank of America Corp. index shows.
Before the deal was announced, the USDA forecast on May 10 that the U.S. would export 21 percent of its pork production this year and 22 percent in 2014.
If Smithfield boosts shipments to China, that may support a revival in producer profits, according to Sterling Marketing Inc., an agricultural economic-research company in Vale, Oregon. Producers in May were profitable for the first time since September as lean-carcass values rose and feed costs eased, said John Nalivka, president of Sterling Marketing. Farmers are making $2 to $5 per head, he said.
Feed Costs
Hog farmers generally made money in 2010 and 2011 as feed costs fell and hog prices rose, leaving producers in the black from the start of 2010 through more than half of 2012, Nalivka said. Lower feed costs for the rest of this year and into 2014 make the outlook "pretty optimistic from a production standpoint," he said.
Until recently, producers were losing money on average for about a year, after the most-severe drought since the 1930s cut livestock-feed supplies last year, according Chris Hurt, a professor of agricultural economics at Purdue.
Hurt, who has studied livestock markets for four decades, said it was too early to tell what kind of implications the Smithfield deal will have on the U.S. industry. The transaction may provide a "fundamental turning point for globalization of the pork industry," he said in a video posting on Purdue's website.
Producer Benefit
Smithfield accepted Hong Kong-based Shuanghui's offer of $34 a share on May 29, priced at a 31 percent premium to the close the previous day. The National Pork Producers Council and the Iowa Pork Producers Association said in separate statements that the transaction may have a positive impact on pork exports, which would be a benefit for producers.
Chinese purchases of U.S. pork totaled 780 million pounds last year, 15 times more than the 52 million in 2002, government data compiled by Global AgriTrends show. U.S. shipments to the Asian nation are still projected to be 58 percent lower than in 2012 as China has increased import controls to ensure meat products exclude ractopamine, a feed additive used by some U.S. producers to add lean muscle in livestock.
"Hog producers in Iowa ought to be thrilled as a result of this, and U.S. agriculture, whether it's grain or whatever, should be extremely pleased," Smithfield Chief Executive Officer C. Larry Pope said in a conference call on May 29. "This helps to put more exports out of the United States."
Al Wulfekuhle, a 54-year-old producer in Quasqueton, Iowa, who sells hogs to Tyson Foods Inc., said he worries about whether the company's intentions are to use Smithfield's expertise in genetics and processing to produce more pork in China or to produce more pork in the U.S. and export to China.
"We're definitely in a world market," Wulfekuhle said. "This is just an evolution of what we've been doing for years. It's something we as producers have to learn how to work with."
Before it's here, it's on the Bloomberg Terminal.
LEARN MORE