Big Banks, Credit Cards, and Small Business Lending
by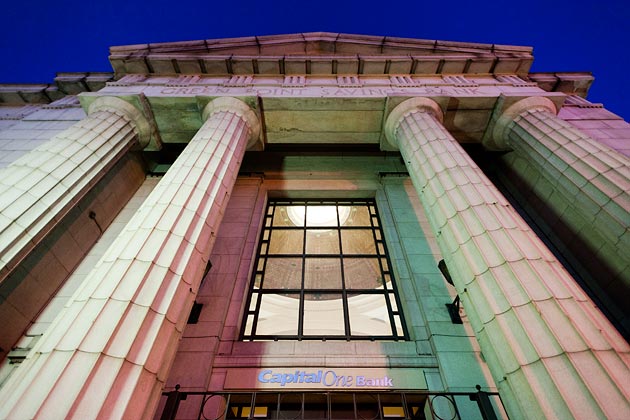 A familiar narrative around small business lending goes something like this: Big banks are slow to evaluate small business borrowers, and they often deem loans too risky to fund. Seeking speedier approvals and easier credit standards, business owners take on alternative financing, paying higher borrowing costs for the faster money.
There's plenty of evidence to support that story. In the three years following the financial crisis, bank lending to small businesses declined by 18 percent, twice the rate at which all commercial lending slowed. And there is no shortage of alternative financing firms—from traditional providers of merchant cash advances (PDF) to data-driven startups—seeking to meet small businesses' unmet borrowing needs.
What gets lost in the coverage is that commercial loans aren't the only way banks lend to small businesses, as U.S. Federal Deposit Insurance Corporation data compiled by American Banker and published online this weekend make clear. Big banks also have large credit-card issuing operations catering to small businesses, which helps explain why their share of lending, as reported in American Banker, is bigger than conventional wisdom dictates it should be.
According to the publication, the 80 or so U.S. banks with more than $10 billion in assets made 46.5 percent of all small business loans in the fourth quarter of 2012, but were responsible for 66 percent of small business lending made in amounts of $100,000 or less. That large share doesn't square with big banks' reputed aversion to small loans. The explanation: American Banker's Harry Terris writes that the $100,000-or-less category generally represents credit-card lending, and "has been roughly steady in a range of $84 billion to $88 billion since the third quarter of 2010."
Beyond reaping higher interest rates than commercial loans, the appeal of credit cards is clear. They let "big banks cover a bigger piece of the market without having to involve underwriting teams," says Rohit Arora, chief executive officer of online lending platform Biz2Credit.
A reminder for Main Street borrowers who can't get a loan but can get a business credit card: The Credit Card Accountability, Responsibility, & Disclosure (CARD) Act of 2009 created a number of protections for credit-card borrowers. Those protections aren't standard for most business accounts, but there are reasons to believe they may become so in coming years.
Before it's here, it's on the Bloomberg Terminal.
LEARN MORE