As Airlines Look for More to Sell, Your Comfort Is Their Merchandise
By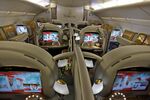 The airline industry's push to impose new charges for small perks has come to this: "subscriptions" for extra legroom.
In its latest revenue-raising experiment, United Airlines has introduced annual payments that provide travelers with roomier seats or the ability check a suitcase without an additional fee. For $499, you can sit in United's Economy Plus section each time you fly and enjoy four or five extra inches of legroom, depending on aircraft model. A $349 option—with United generously agreeing to waive its arbitrary $50 initiation fee, yea!—buys one checked bag on every flight for a year of flights. Or check two bags all year for $399.
United currently has 16 products for sale through its Travel Store, including the option to hold a fare for up to a week before you purchase. That power, of course, is particularly useful now that the major airlines, led by United in April, hiked their fee to change a domestic ticket to $200. American Airlines will even let indecisive travelers buy their way out of the $200 penalty: Choice Essential and Choice Plus fares, which the carrier introduced six months ago, include one checked bag and waive the ticket-change fee.
Or let's say you get hungry when flying to Europe but can't stomach the typical in-flight chicken breast? US Airways has started selling a new line of premium DineFresh meals on its international flights, offering assorted charcuterie, antipasto, vegetarian orzo, and a half-bottle of wine for $21.99. The airline also sells a $7 Power-Nap Sack on flights over 3.5 hours containing a fleece blanket, neck pillow, eyeshades, and earplugs. Note the branding.
The point is clear: Airlines are striving like mad to become merchandise marts full of new products and services, a shopper's paradise for people willing to fork over cash upfront for the prospect of a better experience when they travel. Commodification has been one of the central themes in airlines' disastrous financial performance since the industry was deregulated 35 years ago. In the eyes of many consumers, every flight is the same beyond the core variables of time and price—and even the price is often the same, down to the penny, lest one airline lose market share on a competitive route.
Hence the race to differentiate the product, whether it be flat beds on cross-country flights, expanded legroom, first dibs on the overhead space, Wi-Fi passes, or new services to deliver your bags to your destination before you arrive. At least six carriers, including American and Frontier Airlines, have also introduced "branded" coach fares, where paying more offers additional services.
Airlines are "maturing as retailers" and are motivated to find new ways to show off product investments, says Rick Elieson, American's managing director of digital: "It's not just about getting from A to B. It's about what are you going to get for that price?"
To get travelers to stop focusing on the basic airfare, the retail approach is considered a smart way to go. "Industry wisdom indicates the vast majority of consumers only want the lowest price. Yet, when properly merchandised, airline travel can fetch a premium," according to an April report (PDF) on airline retailing by IdeaWorks, a travel consultancy. There is also the reasonable expectation that if you're paying an airline hundreds of dollars before you even step foot on its plane, chances are very good you'll dedicate most of your business to that airline for at least the next 12 months.
For some, the new world of airline merchandising might make travel seem more like a restaurant meal, with optional expenses that can be added at the customer's discretion. Airline press releases announcing these new products and services almost always emphasize one or all of the following words: relaxing, rewarding, comfortable, convenience, options, and value. "A la carte" is also popular, to carry the dining analogy further.
Those travelers inclined to a not-so-positive view may feel airline hands in their wallets at every click of the mouse. United and others are disaggregating each piece of the flight into ever-smaller components, in effect saying: Give us $848 and for the next year you can forgo the indignity of paying $25 per trip to check your suitcase and sucking on your knees in 37E. Each time you pay us, there will be slightly less pain.