A Short History of Zynga's Rapid Decline
By and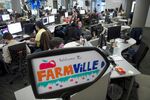 Zynga is cutting nearly one-fifth of its staff and closing some offices as the game maker continues to be whacked by the changing whims of its users. Having built itself on the back of Facebook, Zynga has struggled over the migration to mobile. "While our FarmVille Franchise continues to perform well, other games are underperforming," the San Francisco company said in a June 3 release. Company shares fell 11.5 percent, and are down 50 percent over the past year.
The rise and fall of social gaming has been a harsh reminder of how fleeting success can be for those who do their business on the Internet. Zynga is closing its offices in New York and Los Angeles, and the company is now operating with fewer staff members than when it went public a year and a half ago. Some of its employees have left to start companies that now compete with it, but much of the economic activity in the social gaming industry has simply disappeared.
Here's a blow-by-blow account of Zynga's recent history:
Dec. 15, 2011: Zynga prices 100 million shares at $10 each in the biggest Internet initial public offering since Google's in 2004. The company employs over 2,800 people and is turning a profit.
Jan. 5, 2012: Scramble With Friends is released.
March 21, 2012: Zynga purchases Omgpop, the maker of Draw Something, for $200 million. The game, while wildly popular at the time of purchase, would end up being a flash in the pan.
April 3, 2012: Zynga closes a secondary offering of 49.4 million shares at $12.
May to September 2012: Bubble Safari, Ruby Blast, and FarmVille 2 are released.
Oct. 4, 2012: Zynga lowers its 2012 income outlook to $147 million to $162 million, down from $180 million to $250 million.
Oct. 24, 2012: Zynga cuts 150 employees, or 5 percent of staff, to save $15 million to $20 million.
Nov. 29, 2012: Facebook and Zynga loosen the terms of their alliance, removing the favored status that Zynga long enjoyed as a partner.
April 24, 2013: First-quarter revenue of $263 million shows a fall of 18 percent. Monthly users drop 13 percent, to 253 million.
June 3, 2013: To save $70 million to $80 million, Zynga cuts 520 positions, dropping the total number of employees to fewer than the amount it had when it went public. The shares fall to less than $3; the company is valued at $204 million.