Why Can't Rutgers Hire?
Ira Sager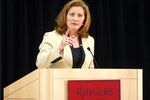 What a mess.
As Rutgers's new athletic director, Julie Hermann was supposed to restore order. Remember: The school's men's basketball coach Mike Rice was fired after being caught on video verbally abusing his players; so was Athletic Director Tim Pernetti. That episode was followed by the embarrassing discovery that Rice's replacement, Eddie Jordan, never earned a degree from Rutgers, as he claimed.
Now information has surfaced about Hermann's past, including a pair of troubling lawsuits and an accusation that, as volleyball coach at the University of Tennessee, she used abusive language toward her players. Many have already called for her resignation and continue to raise questions about the leadership ability of Rutgers President Robert Barchi. An editorial in one local newspaper suggested that Hermann should leave "for the love of Rutgers" and described Barchi as "woefully incompetent" at hiring an athletic director and managing a crisis.
At a big sports school, having the right athletic director is critical. For Rutgers, this was a particularly sensitive hire: Hermann was supposed to embody a new era in Scarlet Knights athletics, and to convince alumni, donors, and recruits that the school's bad press was behind it. Instead, she became more evidence of a university administration that, at the very least, can't get its act together.
A look at the process that led to Hermann's hire suggests a series of missteps, starting with a search committee that, at 28 members, was just too big. The group reviewed 63 initial candidates and narrowed the choice to about a dozen. A smaller committee of six chose three finalists. "Twenty-eight is just crazy," says Gregory Sparzo, a managing director with the executive search firm Horton International. "The complexity [of managing the search process] grows exponentially." Corporate searches are typically conducted by a few people, including a subgroup of the board if it's a CEO search.
Confidentiality is another reason to keep the search committee small. As Rutgers is now painfully aware, it's hard to get 28 people to keep a secret. Even before the list of candidates was compiled, names were leaked to the press. For committee members, the constant leaks sapped time and energy.
Then there are those red flags in Hermann's past. Candy Straight, a member of the Rutgers board of governors, who was on the six-person executive search committee, says the committee was aware of lawsuits in Hermann's past but claims of verbal abuse blindsided them: "None of us were aware of that."
A series of e-mails obtained by ESPN reveal that at least two members of the search committee believe the process that led to Hermann's hiring was "secretive and rushed." And given that the school was coming off one scandal, the search committee could have been more sensitive about considering someone who, as Sports Illustrated noted, "if she had any more red flags, she could challenge every call in an NFL game."
Straight defends the process and their choice. "I think we did a thorough vetting process," she says, adding that Hermann has the support of the president and the board of governors. Hermann starts on June 17.
Rutgers has been using the same search process for more than a dozen years now, including the last time it hired an athletic director and, more recently, a president. (The presidential search committee had 40 members.) It's time for a new model, says Sparzo: "It's just a bad hiring process."
Before it's here, it's on the Bloomberg Terminal.
LEARN MORE