Urbanites, Get Ready for a 7-Eleven Near You
by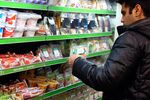 In the not-too-distant future, few Americans will be forced to travel far for the icy technicolor treat known as a Slurpee. 7-Eleven plans to double its number of North American stores, reported Bloomberg News, an expansion that could make the convenience-store chain more numerous than Starbucks, which has a mere 12,995 stores in the Americas. The chain currently has more than 10,000 stores in the U.S., Canada, and Mexico.
For its next wave of outlets, the staple of suburban life plans to rely more heavily on foot traffic. "We are very interested in downtown, urban locations," 7-Eleven spokeswoman Margaret Chabris said in an e-mail. Specifically, the company is looking at areas with residential and working populations of at least 15,000 within a half-mile, a large 18- to 34-year-old contingent, public transit, high-density housing and apartments, and healthy nightlife. The company has identified about two dozen markets for development, including New York, the Bay area, Chicago, Detroit, Las Vegas, Pittsburgh, and San Antonio.
(Update, 6:45 p.m.: Sorry, 7-Eleven fans in Las Vegas and Detroit: A spokesperson for the chain just e-mailed an update that removed these two cities from the "accelerated growth market list," although the chain will still open stores there.)
For 7-Eleven, competition doesn't come only from other chains. It also includes "mom-and-pop" stores, otherwise known as "single-store operators," which now account for almost 63 percent of all convenience stores, up 0.7 percent from 2011, according to the National Association of Convenience Stores. To that end—and to accelerate growth—7-Eleven runs what it calls a Business Conversion Program that encourages storeowners to turn existing businesses into 7-Elevens.
Sometimes, the chain buys in bulk. In 2012, 7-Eleven acquired stores from C. L. Thomas, Tetco, Exxon Mobil, Sam's Mart, Quix, and Open Pantry. In total, it built, converted, or acquired nearly 969 stores in the U.S. and Canada last year, of which 961 were in the U.S. The chain, owned by Tokyo-based Seven & I, is already the world's largest convenience retailer by store count, with more than 50,000 7-Eleven stores in 16 countries. In 2003, the figure was about 25,000.
Based on population, there is potential for further growth. Chairman Toshifumi Suzuki told Bloomberg News that the company "could increase our store number to 20,000, or even 30,000" in North America. Which would mean you'd never have to go hungry for a taquito.
Before it's here, it's on the Bloomberg Terminal.
LEARN MORE