Nuclear Traces at Iran Complex May Not Be Found, UN Says
Jonathan Tirone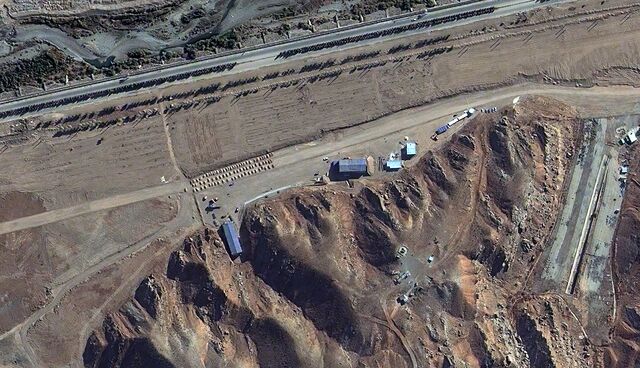 United Nations nuclear investigators may never find evidence that Iran conducted atomic-weapons experiments a decade ago after the Persian Gulf nation altered the terrain around a military building housing the alleged work.
"Verification capacity has been negatively impacted because of the extensive activities by Iran," International Atomic Energy Agency Director General Yukiya Amano said today at a press conference in Vienna. "It may no longer be possible to find anything, even if we have access."
The IAEA's 35-member board of governors convened today in the Austrian capital to assess progress in the 10-year investigation into Iran's nuclear work. Iran, with the world's No. 4 proven oil reserves, denies it has sought nuclear weapons and has refused to back down over what it calls a rightful pursuit of technology even after international sanctions.
"The more unyielding we are, the less greedy the enemy will be," said Saeed Jalili, Iran's top nuclear negotiator who is running to replace President Mahmoud Ahmadinejad in the June 14 election. The nation of 75 million people should be "standing up to oppressive powers," he said in a May 25 broadcast interview.
IAEA officials have conducted 10 rounds of fruitless negotiations aimed to win access to Iranian people and places, including the Parchin facility. During the negotiations, satellite photos show Iran has removed earth from and paved areas around the suspected site.
'Around in Circles'
"For some time now we have been going around in circles," Amano said. "This is not the right way to address issues of importance to the international community."
While Amano reiterated that the IAEA remains committed to dialogue, future talks should focus on "concrete results" rather than rhetoric. Israel and the U.S. have left open the possibility of military strikes rather than allow Iran to build a nuclear weapon.
The IAEA's focus on Parchin, which it was allowed to visit in 2005 without finding anything, has been criticized by former IAEA officials, including former director Hans Blix, who called the issue a "sideshow" in a March interview. Nuclear scientists have said it would be unlikely that Iran could erase signs of experiments using nuclear material.
Before it's here, it's on the Bloomberg Terminal.
LEARN MORE