Funny Ads Make Brands Stronger. No Joke
Steve McKee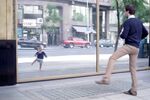 Evian's new "Baby & Me" YouTube video is a sequel of sorts to "Roller Babies," the mineral water brand's 2009 video that became an online sensation with more than 68 million views. Released last month, "Baby & Me," already has more than 51 million views because it's so enjoyable. Evian doesn't have to pay a dime to distribute its fun (and funny) content: Fans of the videos are happy to do all the work.
Mondelēz International's Oreo recognized a similar opportunity for attention a few months ago, when the lights unexpectedly went out on Super Bowl XLVII in New Orleans. Almost immediately, Oreo sent a tweet featuring a shadowy image of its signature cookie accompanied by the witty headline, "You can still dunk in the dark." The brand quickly became a trending topic on Twitter, and as of noon the following day the message had been retweeted more than 15,000 times. (Audi also got into the power outage act by posting a tweet that tweaked rival Mercedes-Benz, sponsor of the dimly lit Superdome.)
Even in a category as dull as detergent, humor can steal the show. When Procter & Gamble launched its Tide to Go stain remover pen, it did so via a TV commercial called "Talking Stain" that was just plain funny. The spot (pun intended) made Tide to Go the talk of the water cooler set, and within 10 days of its first airing, it generated more than 15,000 hours of engagement at a related website.
What these examples all demonstrate (besides deft use of the Web) is the power of humor in branding. Yes, most companies lack the budget to hire expensive directors or produce high-end TV commercials. But as the biggies above demonstrated, any brand with an understanding of its audience and a little imagination can use humor effectively, in any form of media. Few do—more should.
Humor is social by nature; people are instinctively inclined to spread funny stuff, even if it's an ad. Not all of us are good at telling jokes, but when we hear a good one we'll do our best to share it with others. It's no secret (and should be no surprise) that the most viral Web videos tend to be those that do the best job of tickling people's funny bones.
A humorous brand is a confident brand, and a confident brand is attractive. Many years ago a bail bonds company down the street from me put up a cheap billboard that simply said, "Because jail sucks." I laughed out loud when I first saw it, and not only do I remember it to this day, I've helped the brand spread the word by telling other people about it. While I hope I won't be in need of a bail bond anytime soon, if and when I do, I know who to call.
Humor has its downsides, of course. It's hard to be funny, and it's easy to get distracted by something that may be funny but isn't strategic. Witness Kmart's current "Ship My Pants" and "Big Gas Savings" ads, which use sophomoric humor that not only obscures the message but also risks offending the discount retailer's core customers. The campaign will have its moment in the sun, but Kmart will soon go back to its struggle for survival.
Despite its power, humor gets a bum rap in branding because it can be thought of as frivolous for companies that aren't in fun categories like beer and potato chips (or cookies and bottled water). But before you dismiss wit as incompatible with your brand, remember how effectively it worked for something as mundane as a stain remover.