business
Britain Can't Make Its Bankers Lend to Small Businesses
By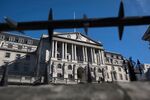 Back in 2008, it was trendy to declare that "flat is the new up." In Britain, where the government has been trying to juice lending to small businesses for years, policy makers are settling for almost-flat.
About a year ago the Bank of England began the Funding for Lending Scheme that let banks borrow at below-market rates, in the hope that they'd turn around and lend that money to people and businesses. Though banks have borrowed more than 16 billion pounds through the program since then, their loans outstanding to British households and businesses have dropped by 1.8 billion pounds, according to data released Monday. That includes a 300 million-pound decline in the first quarter of this year. The program was recently extended for another year.
In a statement, the Bank of England's Paul Fisher suggests flat is a prelude to up:
The picture of flat lending growth overall is broadly as expected at this stage, reflecting reductions in some legacy portfolios being roughly offset in aggregate by expanding new lending. The plans of the FLS participants suggest that net lending volumes will pick up gradually through the remainder of 2013.
Economist Jens Larsen of RBC Capital Markets wrote that the report "can only be described as disappointing," according to Bloomberg News. Figuring out how to get loans flowing into the real economy will be on incoming Bank of England Governor Mark Carney's agenda, Larsen wrote.
Lending conditions have been better for households than businesses, the Bank of England says in its news release: "There are several possible reasons for this, including a desire by some lenders to reduce their exposure to commercial real estate, which makes up a significant proportion of corporate lending."
The good news is that the loans banks have been making are at lower cost to borrowers. "It will take time for the improvement in credit conditions experienced since the launch of the FLS to feed through to lending volumes, given the typical lags involved in the loan application, approval and drawdown process," the Bank of England says.
Remember that the U.K. government still holds giant stakes in two of the country's largest banks since bailing them out of the financial crisis: the state owns 65 percent of Royal Bank of Scotland and 39 percent of Lloyds. Together, they shrank their loan books by more than 10 billion pounds between June 2012 and March of this year, according to the BOE data. Spanish bank Santander's U.K. portfolio declined by 8.6 billion pounds in that period, and the three banks account for the bulk of the contraction. Lloyds said the decline is from "running down certain non-core parts of our business" and that it's increasing loans to small and midsize companies, Bloomberg reported.
Likewise, RBS says the reported drop in lending comes from winding down businesses and selling off assets, particularly commercial property. By RBS's own accounting, the bank loaned 929 million pounds to U.K. households and businesses in the first quarter. In the first three quarters of the Funding for Lending Scheme, it funneled 3.6 billion pounds in loans, discounts, and fee reductions to 22,000 small and midsize companies, RBS spokesman Erfan Hussain says.
Still, while the bank says the program works, U.K. businesses remain wary of borrowing without clearer signs of recovery. "We've said all along that one of our big problems is people have low confidence in the economy," Hussain says. The British Bankers Association likewise blamed weak loan demand for the decline.
How bad is confidence across the pond? Ahead of the G-8 summit in Northern Ireland this month, local officials are papering over empty storefronts to make them look prosperous, the Irish Times reported last week:
The butcher's business has been replaced by a picture of a butcher's business. Across the road is a similar tale. A small business premises has been made to look like an office supplies store. It used to be a pharmacy, now relocated on the village main street. Elsewhere in Fermanagh, billboard-sized pictures of the gorgeous scenery have been located to mask the occasional stark and abandoned building site or other eyesore.
Onward, ever flat-ward.
Before it's here, it's on the Bloomberg Terminal.
LEARN MORE