Are American Taxpayers Subsidizing Wal-Mart's Low Wages?
By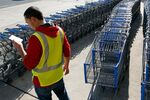 Some Wal-Mart workers and labor activists complain that the country's largest private employer doesn't pay a living wage. Now some in government are criticizing the company, too. The Democratic staff of the U.S. House Committee on Education and the Workforce has released a report with the damning title, "The Low-Wage Drag on Our Economy: Wal-Mart's low wages and their effect on taxpayers and economic growth" (pdf).
It only gets worse from there. The report begins:
"While employers like Wal-Mart seek to reap significant profits through the depression of labor costs, the social costs of this low-wage strategy are externalized. Low wages not only harm workers and their families—they cost taxpayers."
How much? About $5,815 per employee, they say. The Democratic staff members analyzed data from Wisconsin's Medicaid program, which released data on enrollment by employer as of the end of 2012. Wal-Mart Stores ranked first on the list, with 3,216 of its employees enrolled in Wisconsin's Medicaid program, called BadgerCare+. The authors assume that the workers who are on Medicaid would also be receiving reduced-price school meals, housing assistance, and other help. They figure that at a single Supercenter in Wisconsin, the 300 or so employees would rely on public assistance programs that cost $904,542 a year.
The report comes out as Congress considers raising the federal minimum wage to $10.10 an hour. It has been $7.25 an hour since 2009, though some states have mandated a higher wage. Also relevant to Wal-Mart watchers this week, several busloads of striking Wal-Mart employees arrived at the company headquarters in Bentonville, Ark., ahead of its annual shareholder meeting June 7.
Wal-Mart didn't respond to a request for comment, but Brooke Buchanan, a spokeswoman, did tell the Huffington Post: "Every month more than 60 percent of Americans shop at Walmart, and we are proud to help them save money on what they want and need to build better lives for themselves and their families. We provide a range of jobs—from people starting out stocking shelves to PhDs in engineering and finance. We provide education assistance and skill training and, most of all, a chance to move up in the ranks."
Before it's here, it's on the Bloomberg Terminal.
LEARN MORE