business
'Twilight', 'Hunger Games' Fans Keep Lions Gate's DVD Business Alive
By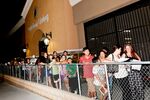 Lions Gate Entertainment posted its first annual profit in five years late Thursday, as young adults rushed theaters for The Hunger Games and The Twilight Saga—Breaking Dawn 2. But there was also a classic helping fuel those blockbuster results: DVD and Blu-ray sales.
Lions Gate continued to beat all its competitors last year in its ratio of DVD sales to box office revenue, according to its SEC filing. Its conversion rate—a measure of first-cycle DVD revenue to theatrical release ticket sales—was 25 percent above the industry average. DreamWorks Animation, by contrast, doesn't detail its DVD conversions but said in a recent filing that both revenue and profit margin from hard-copy video are declining fast.
DreamWorks is not the anomaly here. DVDs are fast disappearing in the face of video-on-demand options, but the discs can still having a meaningful impact on studios' results. Spending on Blu-Ray discs, for example, rose nearly 10 percent last year, according to Digital Entertainment Group.
Consider Hunger Games. The film harvested $153 million in its opening weekend, but it also moved more DVDs than any other title for four consecutive weeks when it hit shelves in August, finishing the year second only to The Avengers. The Twilight Saga: Breaking Dawn—Part 1 also grabbed the top spot a few months earlier. In other words, the long tail of the DVD era isn't just old men buying Caddyshack and Casablanca.
DVDs also remain a money machine in workout titles. Lionsgate Films was No. 3 among fitness distributors last year, thanks in part to the top-selling workout video of all time, Jillian Michaels: 30 Day Shred. It also does well with Jane Fonda and workout videos based on Dirty Dancing. Children's videos, including Barney and Bob the Builder, are also potent drivers of DVD sales.
What's the common thread? Portability. A kid who wants to watch angst-ridden vampires at their friend's house might prefer a Twilight DVD. Likewise, a middle-aged vacationer who wants to do his Jillian Michael's "shred" or plug his toddler into Thomas the Train may prefer hard-copy video over digital media. It's probably a demographic too slim to drive programming decisions at Lionsgate, but it is still driving results for them. And it is still a big part of the business models of Best Buy, Target, Wal-Mart Stores, and the other big boxes that still have shelves upon shelves of DVDs right next to the iPads.
Before it's here, it's on the Bloomberg Terminal.
LEARN MORE