Student Loan Rates Are on the Verge of Doubling. Here's Why
By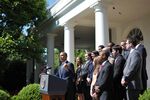 President Obama and House Republicans actually agree on something—both want to tie student loans closer to market rates. But the consensus ends there. When it comes to sorting out the details, the president and the GOP are pretty far apart. As Obama's PR blitz today highlights, the two sides have a July 1 deadline to strike a deal to prevent interest rates from automatically doubling.
As we've explained in the past, Congress voted to give student loans fixed interest rates back in 2001. Through a series of subsequent legislation, the rates generally became fixed at 3.4 percent for subsidized Stafford loans taken out by undergrads. That rate will double on July 1 if Congress doesn't act.
Obama wants the interest rate to be fixed each year based on what it costs the government to borrow. Once a student takes out a loan, the rate would be locked in for the entire duration of that loan, which is typically 10 years. The administration's argument: If students know for certain how much their loans will cost, they can make informed decisions about how much (or whether) to borrow in the first place.
A bill passed by House Republicans last week, by contrast, would let the interest rate fluctuate each year based on what it costs the government to borrow. This would allow all borrowers to benefit from periods of low interest rates—but could also make them pay more when rates are high.
Another point of tension: Should there be a cap on rates? Obama's plan doesn't call for one. Instead, he would expand the Pay As You Earn program, which caps loan payments at 10 percent of a borrower's income and forgives the balance of the debt after 20 years. The GOP wants a hard cap of 8.5 percent.
If the president and Republicans don't cut a deal by July 1, Obama says doubled rates will cost each student an additional $1,000. That's certainly not chump change, but it wouldn't hit all at once. The number represents the extra cost over the life of a loan, which translates to $7 a month. The bigger problem is how much students are borrowing—which is affected by a myriad other things, including income inequality, declining support for public education, and the costs of for-profit colleges. Those challenges are far harder to tackle.
Before it's here, it's on the Bloomberg Terminal.
LEARN MORE