Love and Death: Sic Transit Floria
by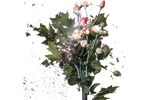 There's nothing like a dying bouquet of flowers to drive home the transience of beauty, or your utter incompetence.

You buy them; they look great. You display them; they look great. You wake up; they've been savaged by jackals. Ebullient to pathetic in 48 hours. It must be you.

Not necessarily, says Sarah Corrigan, the owner ofElan Flowers in Tribeca. If it's from a decent florist , Corrigan says, you can expect a bouquet to last three to five days at least, and a week or longer if the flowers are built for the long haul, like roses, tulips and lilies.

That said, there are ways to increase a bouquet's lifespan. Corrigan recommends changing the water daily. "Flowers start to decay," she says, "and bacteria start to build up in the water. If you give them clear water, the slower they decay." She advises cutting the stems 1/8 inch every other day (in the spare time you would otherwise use to build a schooner). "If you can cut them without messing up the arrangement," she says, "it lets the flowers drink up water more efficiently."

Gaige Clark, the owner of Spruce in Chelsea, echoes that advice and adds that you should keep flowers out of direct sunlight and away from heaters. The longest-lasting bloom, Clark says, is the cymbidium orchid , which can hang in there up to a month as a cut flower.

But we might be missing the point. "The question is so boring," says Ronaldo Maia, owner of the eponymous Upper East Side store . "Beauty does not have a title for how long it should last." That's not to say that Maia is above suggestions for care. He recommends changing the water every day and keeping blooms away from heat and frost. Above all, he says, "they should be treated as lovers."
Depending on how you treat your lovers.
James Tarmy reports on arts and culture for Bloomberg Muse, the arts and leisure section of Bloomberg News.
Before it's here, it's on the Bloomberg Terminal.
LEARN MORE