Forget Breakfast. Sonic Drive-In Wants the After-School Crowd
By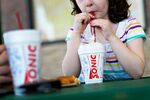 Sonic Drive-In, which bills itself as the "ultimate drink stop," recently doubled the total number of beverage permutations at its restaurants to more than 1 million. It hopes to give customers a few (hundred thousand) more reasons to stop in during an increasingly important sales period: "Happy Hour," an interval between lunch and dinner.
As fast-food chains battle for elusive breakfast dollars, some are also trying to lure diners for a late afternoon snack. It makes sense: Afternoon snacking has held steady over the last five years, representing about 47 percent of 10.4 billion total snack visits to fast-food joints in 2012, according to NPD data, while in the morning and at night snacking declined.
Sonic took its Happy Hour program nationwide in November 2007, offering half-priced drinks from 2 to 4 p.m. daily, a time when most restaurants are quiet. The drinks are all non-alcoholic—it's not that kind of happy hour—and food specials followed. The program drew a lot of high schoolers, as well as stay-at-home moms popping by for a limeade before picking up the kids. Most are ritual afternoon customers, says Todd Smith, Sonic's vice president of marketing.
Sales from 2 to 5 p.m. now represent about 23 percent of Sonic's revenue, well above the fast-food industry average of about 10 percent. Before it launched Happy Hour, the afternoon made up 18 percent of sales—although it's worth noting that Sonic's total revenue was higher before the recession ($543.7 million in fiscal 2012 vs. $770.5 million in 2007).
Beverages are a fast-growing snack segment, according to NPD, and that's obviously good news for a chain that advertises 1 million drink varieties. "It's almost like specialty beverages are replacing some standard food items," says Bonnie Riggs, restaurant industry analyst at NPD.
Smith says Sonic recently expanded the drink menu to strengthen its beverage program in general, and to "give our loyal Happy Hour consumer a reason to come back." This year, the chain also added four 99-cent Happy Hour snack items: onion rings, tots, mozzarella sticks, and corn dogs. "Hopefully you can increase that check a bit with additional menu items," says Riggs.
Other chains are also competing for traffic during this time. This year, Taco Bell launched a "Happier Hour" from 2 to 5 p.m. with $1 food and drink items. Some McCafés now have happy hour, and Dairy Queen boosted beverage sales with its own happy hour in 2009. "As consumers' eating patterns shift to include more frequent, smaller snacking occasions, we launched Happier Hour earlier this year to establish Taco Bell as the afternoon destination" for snacks and beverages, said Chris Brandt, Taco Bell's chief marketing officer, in an e-mail.
The risk is that too much afternoon snacking will eat into meal-time sales. Still, Sonic plans to keep traffic coming in throughout the day with even more Happy Hour drink and food items to come. "This is a day part we'll continue to focus on building," Smith says.
Before it's here, it's on the Bloomberg Terminal.
LEARN MORE