business
China's Lopsided Labor Force
Christina Larson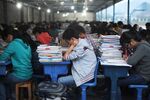 While a dwindling number of migrant laborers is helping drive up salaries in China's assembly-line industries and other low-skilled employment categories, a surplus of college graduates for available white-collar jobs is eroding the bargaining power of those with university degrees.
Wages have been steadily rising for China's 260 million migrant workers—who take jobs in factories, on construction sites, in restaurants, and in other sectors with minimal entry requirements. According to the government-led All-China Federation of Trade Unions, the average monthly earnings of migrant workers across China rose 11 percent from 2011 to 2012, to 2,290 renminbi ($370). That exceeds the rate of China's GDP growth.
Meanwhile, as central-government investment has allowed China to increase university enrollment and graduation rates massively, the demand for college graduates has not kept up. The number of university degrees awarded annually has risen fourfold in a decade, to about 8 million today.
Among those new graduates who did find employment last year, 69 percent had starting salaries that paid less than 2,000 renminbi per month—in other words, their jobs paid them less than they might have earned as migrant laborers, according to figures reported by a the 21st Century Business Herald newspaper on Tuesday.
Those grim numbers won't, however, dent the hopes of millions of high-school seniors who will be taking China's three-day college entrance exam the first week in June. The exam, called gaokao, is widely criticized for stressing rote-memorization skills over critical thinking. Critics have called for reforming the test for years, but for now, it's still a key hurdle—the first of many—for students aspiring to steady jobs and a middle-class life.
Before it's here, it's on the Bloomberg Terminal.
LEARN MORE