Ask the Expert: How to Win MBA Admission Despite a Low GPA
Geoff Gloeckler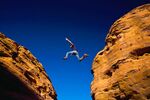 We get a lot of questions from potential business students in our forums, on Twitter, and via e-mail about all kinds of topics, from admissions to career services and everything in between. In the Ask the Expert feature, we take your questions and get them answered by the most qualified individuals we can find.
Today's question, edited for length and clarity, is about applying to B-school with a low undergraduate GPA. It comes from a participant on the B-school forums (where use of real names is not required) who goes by the screen name Brayn.
Brayn asks: "I would like to know how to offset a lower GPA to have a better chance at gaining entrance into a good B-school. I graduated with a 2.97 from a state school, simply due to the fact that I was working 50 to 60 hours a week supporting my family. Thankfully that time is over. Should I be taking business courses at a community college or an extension? Or should I just leave it as is and try to get the highest score possible on my GMATs?"
To answer Brayn's question, we reached out to Paula Wilson, director of MBA admissions at Georgia Tech's Scheller College of Business.
"Brayn, first, let me congratulate you on your decision to pursue graduate business education," Wilson says. "As you probably already know, schools take a holistic approach when reviewing applications. There are really two primary decisions the admissions committee is making. The first has to do with your potential for academic success in the program, which includes your past academic performance and entrance exam scores (GMAT or GRE). The second decision centers around leadership potential and contributions you can make to the program both in and out of the classroom. This would include work experience, essays, letters of recommendation, and interviews.
"Regarding past academic performance, there are a number of things to keep in mind. First, schools will typically post their average grade point average for the most recent entering class. So if a school posts an average GPA of 3.4, obviously some of the students are above and some are below, so not having a GPA of 3.4 would not automatically disqualify you from admission. Some schools will also look at your last two years, or major GPA, which is typically higher. Finally, schools will look at your transcript as a whole, not just the bottom-line GPA. They will consider where you attended and what your major was, because we know that there are some schools and majors that are more academically rigorous than others.
"Here are a couple of suggestions for you: First, you may want to make sure you have a strong GMAT or GRE score, since the exam is another indication of potential for academic success. Second, I strongly recommend that you take advantage of the optional essay portion of the application. Most schools will offer this. This is an opportunity for you to address any concerns you think the admissions committee might have about your application and to discuss, in your particular case, why you will be successful academically in their program.
"I typically do not recommend taking a long list of classes to improve the GPA since the GMAT/GRE score and optional essay should be sufficient. However, if you need to complete prerequisites for the program anyway, taking the necessary classes may be helpful in demonstrating academic success. I would recommend that you speak with each school individually before registering for classes, though. Best wishes for success as you pursue your academic and professional goals."
Have a question for a B-school expert? Post it in our forums or tweet it to us with the hashtag #bschoolexpert and we'll get it answered for you.
Before it's here, it's on the Bloomberg Terminal.
LEARN MORE