An African Setback for the Palm Oil Industry
by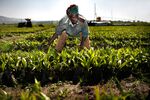 Africa is the next frontier for the world's producers of palm oil, a food ingredient that environmentalists blame for destruction of rain forests in Southeast Asia. Indonesia is the world's biggest producer of palm oil but the government there is trying to reduce deforestation by banning development of new plantations on primary rain forest. With the world's appetite for palm oil increasing, plantation developers are targeting territory in sub-Saharan Africa.
That's alarming some green activists worried about the industry clearing rain forests in order to plant palm trees. "The global palm oil industry is running out of land," says Filip Verbelen, a Brussels-based senior forest campaigner for Greenpeace. "People look where the land is available and they look for Africa."
The drive into the continent suffered a setback on May 18 when Herakles Farms, a New York-based company developing a 73,000-hectare plantation in Cameroon, announced it was suspending work and laying off 690 workers there following a dispute with the government. The U.S. company needs to get the correct permits before it can proceed with the project, according to Cameroon's Ministry of Forestry & Wildlife, which says it took action following complaints from the local community. A 2009 agreement between the Cameroonian government and Herakles subsidiary Sithe Global Sustainable Oils Cameroon does not exempt the company from respecting "legal procedure and environmental constraints," Forestry Minister Ngole Philip Ngwesse said in the statement.
Herakles Farms says it had been acting properly. "The Company had obtained permission to proceed and always has and will comply fully and transparently with government regulations in force," the company said in a statement. "The Company is deeply distressed to see so many of its committed Cameroonian employees being left without jobs for an uncertain period of time," Herakles Farms added. "The company finds these events especially tragic and will do all it can to achieve a positive outcome."
Greenpeace says the Cameroon project could set a precedent for other palm oil developments in Africa. "If this project isn't stopped, investors are going to say, 'Look at what is possible in Cameroon and the rest of the region,'" says Verbelen. "'You can go for a free ride.' If we can stop this or create strong safeguards, I think then new investors will become a lot more careful."
The Cameroon standoff is also significant since demand for palm oil continues to grow—thanks in part to health concerns among Americans worried about the dangers of trans fats. As consumers try to avoid unhealthy trans fats in their diets, the global food industry has been trying to reduce its reliance on hydrogenated oil, and palm oil has become an attractive option, according to Eric Decker, a professor at the University of Massachusetts and head of the school's food science department. "Ever since the awareness that trans fats have negative effects, the food industry has had to find alternatives," he says. "It used to use solid fats that came from hydrogenated oil, but those are high in trans fats. So they had to find another fat source that was still solid. And so they have switched to palm oil."
Developing countries are big consumers of palm oil, too. The World Bank expects demand to double by the end of the decade, thanks largely to increased consumption in China and India. Palm oil is an inexpensive ingredient in ice cream and cookies, and unlike other vegetable oil sources such as soybeans, the palm fruit produces mostly oil, so growers looking to maximize their oil production can get the most bang for their buck. "Palm is the most efficient," says Paul Conway, vice chairman of Cargill, a major importer of palm oil from Southeast Asia. "It's basically all oil."
Palm oil is versatile, with uses not just in food but also in soaps and detergents and, increasingly, biofuels. "Anything you can make from petrochemicals, you can also make from palm oil," Dorab Mistry, a director of Godrej International, said in an interview with Bloomberg Television. And, he added, there aren't a lot of big costs involved with making it. "There are very few commodities in the world which are as profitable to produce as palm oil."
Before it's here, it's on the Bloomberg Terminal.
LEARN MORE