With Paterno Family Lawsuit, Shame Is Officially Dead
Paul M. Barrett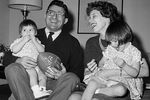 The family of the late Penn State football coach Joe Paterno has sued the National Collegiate Athletic Association over penalties against Penn State for the university's role in the Jerry Sandusky sex abuse scandal. With that action in a state court in Pennsylvania, the concept of shame, long ailing in American society, gave up the ghost.
Paterno, you will recall, died in January 2012 at the age of 85, two months after he was fired following criticism that he failed to contact police when told of heinous child abuse by Sandusky, a former assistant to the legendary coach. It was an ignominious end to Paterno's record-setting on-field career.
One would have hoped that JoePa's relatives would retire quietly from the public arena. Over time, their patriarch's achievements might receive reconsideration and even a measure of honor—alongside recognition of his great failure to rein in Sandusky, a serial rapist of teenagers convicted last June and sentenced to at least 30 years in prison.
But no. In its complaint, the Paterno family and five members of Penn State's board of trustees allege that the NCAA exceeded its authority, interfered with contractual relations, and defamed the Paternos. The NCAA imposed a $60 million fine on the unversity and stripped its football team of 112 wins from 1998 through 2011. The sports association also barred Penn State from bowl games for four years. "This case is further proof that the NCAA has lost all sense of its mission," Wick Sollers, an attorney for the plaintiffs, said in a statement.
Sollers is wrong. The Penn State episode demonstrates that the often-criticized NCAA still has at least a semblance of its sense of mission. The association made emphatically clear that a college football program and its academic overseers cannot conspire to cover up a sadistic campus rapist. That doesn't seem so complicated, does it? The university's own report, issued last July, concluded that Paterno and three senior Penn State officials, including its since-fired president, Graham Spanier, hid critical facts about Sandusky's abuse in an attempt to avoid "bad publicity."
As for the Paterno family, perhaps they deserve some sympathy in their litigiousness. After all, their suit is the third against the NCAA over the Penn State sanctions. Pennsylvania Governor Tom Corbett sued the association in January, arguing that the penalties violated antitrust laws. A Pennsylvania state senator separately has sued the NCAA seeking to direct the funds collected from Penn State to various state programs. Somehow, Pennsylvania feels wronged. The Paternos are merely joining the chorus of home-state complaints.
Get over it, people. Seek redemption in shame and silence. Call off the lawyers.
Before it's here, it's on the Bloomberg Terminal.
LEARN MORE