The Boeing-Airbus Catfight Is Just Fun, Silly Hissing
by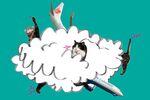 "You don't have the guts to build a whole new plane!"
"And we don't build fake planes for press events!"
The verbal cat fight between Boeing and Airbus over the past week would make a battle-scarred veteran of Twitter flame wars, such as Amanda Bynes, proud. The sparring began May 22 when Boeing's chief executive, Jim McNerney, told an analyst conference that Airbus doesn't currently have an airframe to compete with the updated 777X Boeing, a redesign of its popular 777 jumbo jet. "They don't have the appetite to do a ground-up airplane, and they'd have to do a ground-up airplane," McNerney said.
Tom Enders, the CEO of Airbus's parent, European Aeronautic Defence & Space, or EADS, took his swipe a week later. "The aircraft we rolled out a couple of weeks ago didn't have rivets from Wal-Mart, like the ones our competitors had at the time of their roll-out," Enders said, referring to the 787 Boeing introduced to the world on July 8, 2007, to coincide with the date 7/8/7. The public event had some 15,000 Boeing retirees, reporters, and other guests and was shown live on satellite to 45 countries in nine languages. But that 787 was not remotely ready to fly, held together with temporary fasteners. And not long after the event, Boeing began to confront monumental problems in its far-flung supply chain, forcing the company to refashion some parts and revamp the production line. The work led to multiple delays for the 787 program and became a public relations nightmare as airlines—which had expected to begin receiving the plane in May 2008—began to complain publicly and demand compensation for the delays.
The Airbus A350 has been developed in a quieter fashion—less press and fewer pronouncements on its manufacturing deadlines. Airbus had its own delay and quality-control issues for its superjumbo A380, and the company has taken a low-key approach to this new airplane. Its May 13 rollout in Toulouse, France, was attended only by employees; the plane will be flown this summer and delivered to the first customer by the end of 2014.
The 787 and A350 are competing for large segments of the same airplane market, medium-to-long haul routes with seating for 250-350 passengers. The not-so-big secret in aviation, however, is that airplane customers often buy jets from both companies— at the same time—as Singapore Airlines did on May 30 with a $17 billion order for 30 Airbus A350s and 30 Boeing 787s. American Airlines did the same in July 2011, when it split its 460-jet order nearly evenly between Boeing and Airbus.
Jet buyers like to maintain a true dogfight—between two suppliers competing fiercely on prices. Meow.
Before it's here, it's on the Bloomberg Terminal.
LEARN MORE