OnStar: GM's Not-So-Secret Weapon
By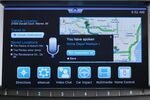 In the future, when your car is a broadband-connected information machine, there's likely to be an enormous amount of jockeying over what sort of information is sent to your vehicle and how much driving data you'll share. That puts General Motors in an attractive position with its OnStar telematics subsidiary, its 17-year-old roadside-assistance and navigation service.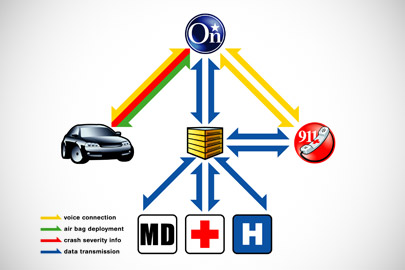 Even in its current, 2G form, many analysts consider OnStar—which has some 6 million subscribers in the U.S. and China—to be a financial superstar within GM. The unit generates an estimated $1.5 billion in yearly sales, with profit margins exceeding 30 percent, Citigroup analyst Itay Michaeli wrote in an April 18 report. "The coming of 4G LTE … is a potential game changer in the ongoing union of telematics and infotainment," he wrote, raising his target price for GM shares to $38, partially due to the growth of commerce from connected cars.
The big question for GM and marketers: What sort of game will this be? Will your bored teen be trolling Facebook in the back? Or is this large pipe into your Buick a better conduit to serve you discounts on parking or insurance or a digital coupon to that Seattle's Best drive thru coming up here in nine blocks on the left? (Slow down.) "There's a location-based marketing cocoon being built around your car, and it's very much in your interest to share data," says Roger Lanctot, an analyst with Strategy Analytics, a technology consulting firm.
In February, GM and AT&T announced a deal to put the carrier's 4G LTE wireless service in most of the automaker's models starting in 2014, via the OnStar service. That was a month after GM introduced a software-developers kit at the 2013 Consumer Electronics Show to spur the creation of new apps to be used inside its cars, much the way Ford Motor has been promoting its Sync system. Four OnStar apps are currently available, including one from the Weather Channel. A year ago, Verizon Communications acquired Hughes Telematics for $612 million to bolster its ability to connect cars to this torrent of expected commerce.
The initial, and possibly most lucrative, areas of business are likely to be communications between your car and dealer, not only for maintenance reminders and scheduling, but also for tracking performance and sending you a mechanic if the car breaks down. There are also insurance options: State Farm already offers discounts to customers who share their OnStar data with the insurer. On some models, the data may include how many miles you drive or even such details as how hard you brake, how often you turn, and how much you drive at highway speeds or on city streets. "I already know that I drive better than my wife, thanks to State Farm," says Lanctot.
For people who envision a day when live television or HBO streams into your car, the big, wet blanket is likely to be driver-distraction rules issued by the government. Last month, the National Highway Traffic Safety Administration released new guidelines that suggest allowing manual text entry, video entertainment, and the display of Web pages and text messages only when cars are parked. The guidelines also recommended that scrolling text messages, Google's Street View, and satellite maps—along with the display of album art—not be allowed while driving because these could cause drivers to remove their eyes from the road for too long. "If NHTSA doesn't want album art, how are you going to have streaming video in the car?" asks Lanctot.
You might not—but your travels are likely to bring a whole new meaning to the term mobile advertising.