NYC's Bike Sharing Makes Sense. It Probably Won't Make Money
By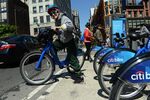 What can New Yorkers expect from Citi Bike? The new bike-sharing program could ease traffic congestion, reduce air pollution, and improve the health of residents who pedal the sturdy, bright-blue bikes around the city. Contrary to the claims of organizers, however, Citi Bike is not likely to make a profit.
That's been the experience of French outdoor-advertising group JCDecaux, the world's largest operator of urban bike-sharing systems. Decaux runs such programs in 66 cities worldwide, including Paris, whose six-year-old Vélib' bike-share scheme is the largest in Europe. The 24,000 dolphin-grey Vélib' bikes have been a hit with Parisians and tourists, who use them to make 100,000 trips per day.
Decaux, though, has never made money from Vélib' or its other bike-share programs. It operates them as part of broader contracts with city governments that allow Decaux–whose main business is outdoor advertising—to place ads on bus shelters, kiosks, and elsewhere. "The money for us comes not from the rentals, but from the advertising," says Albert Asséraf, Decaux's strategy and marketing chief in France. "Our economic model is to finance the bicycle service through urban advertising."
Citi Bike, which was launched this week with 6,000 cycles stationed mainly in Midtown and Lower Manhattan, is run by a subsidiary of Alta Bicycle Share, an Oregon company that also runs programs in Washington, D.C., Boston, and Chattanooga, Tenn. The New York City government says the program will be self-supporting and is expected to make a profit from rental fees, which range from $9.95 for a day to $95 for a year's membership. Some 20,000 New Yorkers have already bought annual memberships.
Because Vélib' is subsidized by Decaux's ad revenue, its rental fees are much lower, starting at €29 ($37) a year. If the program needed to break even, Asseraf says, the annual membership would rise to between $150 and $190, considerably more than Citi Bike's current rate. Decaux employs 300 people to run the program, including a team of technicians who perform maintenance on about 1,200 bikes per day. Another big expense is the fleet of trucks and trailers that haul bikes around the city to make sure all docking stations are well supplied.
Decaux doesn't publish figures on operating costs for its bike-sharing programs, which are in seven European countries as well as Japan and Australia. But analysts at the Paris brokerage Kepler Cheuvreux say the programs are expensive to run. When London recently solicited bids for a bike-sharing, Decaux did not bid on it, because it was "a standalone contract not linked to the street furniture [advertising] concessions," the analysts wrote in a May 28 research note. Since the launch of Vélib', Decaux "has been more cautious about bidding for such schemes," they said.
Vélib' initially was hard-hit by thieves and vandals, with one-third of its bikes stolen or trashed during the first year of operation. Asseraf says improved bike design and security measures have reduced that problem. Although one Citi Bike has already been snatched by a thief, the experience of recently launched bike-sharing programs in London and several U.S. cities suggest that theft and vandalism won't be a serious problem.
Even if bike-sharing programs don't make money, city leaders love them. "It's been excellent for our health and for the environment," Paris Mayor Bertrand Delanoé said last year as Vélib' celebrated its fifth anniversary. The program now is expanding into the Paris suburbs, and the city government has launched an electric-car sharing program modeled on Vélib.
What's more, the programs may even save lives. In a 2011 study, researchers concluded that Barcelona's bike-sharing scheme, known as Bicing, had saved an average of 12 lives a year since its launch in 2007. The health benefits of cycling and of reduced auto-exhaust emissions significantly outweighed the risk of traffic accidents, they found.
Before it's here, it's on the Bloomberg Terminal.
LEARN MORE