Harvard Overhauls Its MBA Application—Essay Optional
Louis Lavelle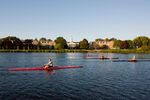 Corrects number of expected MBA applicants at Harvard.
Harvard Business School is making radical changes to its MBA application, revamping the essay section and reducing the number of required recommendations.
Admissions Director Dee Leopold announced the changes in her blog today. She says they will affect more than 9,000 HBS hopefuls who are expected to apply for the 2014-15 academic year, approximately 930 of whom will be admitted.
For 2014 applicants there will be a single essay question with no word limit, and it will be optional: "You're applying to Harvard Business School," the question reads. "We can see your résumé, school transcripts, extra-curricular activities, awards, post-MBA career goals, test scores and what your recommenders have to say about you. What else would you like us to know as we consider your candidacy?" Previous applicants were required to write two essays of no more than 400 words each about "something you did well" and "something you wish you had done better."
In her blog, Leopold explains that admissions to HBS is "not an essay-writing contest," and that eliminating the word limit "brings this process closer to the way things work in the real world." Applicants who feel their credentials speak for themselves and that no elaboration is necessary can skip the essay, she says.
"There is always—and will always be—great variance in both subject matter and degree of polish in the essays of admitted candidates," she says. "It's very possible that there will be admits this year who say we don't need to know anything else beyond the credentials they have already submitted—for them, the application may be 'essay-less.'"
Admissions consultants say HBS's change sets it apart from virtually every other top MBA program, as well as the vast majority of second- and third-tier programs, which all have required essays. "I can not think of any that have zero required essays," says Graham Richmond, co-founder of Philadelphia-based MBA admissions consultant Clear Admit, of the top global MBA programs.
A number of schools have moved in the direction of fewer or shorter essays for 2014, but HBS is the first to make the essay optional. The University of Michigan's Ross School of Business eliminated one essay question and lowered the total maximum word count for all essays by 450 words, while Columbia Business School reduced the total word count by about 20 percent.
The second big innovation at HBS is a reduction in the number of required recommendations, from three to two. Like many top business schools, HBS has for a long time required three recommendations, but in an interview Leopold said she hopes lowering the bar will make it easier for applicants from organizations without a "tried and true path" to business school. In such organizations, she said, finding a suitable recommender can be difficult, and asking for a recommendation can have significant career repercussions.
HBS suggests that recommendations come from individuals who know the candidate well and can attest to the person's leadership ability. For the 2013 admissions cycle, it suggested that two of the three be professional recommendations, with one of those two being a current or recent supervisor. HBS did not release new guidelines for choosing recommenders, but the school will be hosting a series of webinars that will give prospective applicants a chance to ask questions.
Join the discussion on the Bloomberg Businessweek Business School Forum, visit us on Facebook, and follow @BWbschools on Twitter.