business
Elon Musk as the Cooler, Louder, More Zombie-Aware Lee Iacocca
By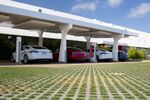 As a child of the '80s, I can remember Lee Iacocca being a constant presence on television. He was that nice, grandfatherly guy who dressed well and really seemed to mean it when he declared, "If you can find a better car, buy it." At the time, I could not even afford Transformers, yet some part of me wanted to save up for a Chrysler. It's frightening what advertising can do to a fragile, little mind.
If there's a 2013 equivalent of the ubiquitous Iacocca, it has to be Elon Musk, chief executive officer of Tesla MotorsTesla Motors. While Musk does not appear on commercials, he's a force on Twitter, as well as the focus of endless Web stories and television shows. For the last couple of months, this has been by design, with Musk and Tesla trying to make a weekly announcement. "It has been like a five-part trilogy," Musk said during a conference call on Thursday to explain yet another announcement. "You should expect this one and then one more on June 20th—an in person thing—and then we won't have anything for awhile."
The Thursday show centered on Tesla's broad expansion of its network of electric car-charging stations. At the moment, Tesla has just eight supercharger stations located near highways, where owners of its all-electric Model S sedan can get 200 miles or so of juice in about 45 minutes. The best part of the deal? The charging stations are free for Tesla drivers.
Well, by the end of this year, Tesla intends to have a supercharging station located about every 80 to 100 miles along major highways. "You will be able to travel all the way from Los Angeles to New York, just using the Tesla Supercharger network," Musk said. All told, Tesla will end up with about 30 charging stations in California and 200 across the country. The company has also promised that an upgrade to come in the next few months will allow cars to recharge in about 20 to 25 minutes—aka pee-break time.
Musk plans to prove the merits of the technology by taking a road trip across the country with his five sons. "It has been 20 years since I did that, and I think it would be kind of fun to take my kids on that trip and show people in real-time what you can do with this system," Musk said. He then warned, "It might end up being like some Chevy Chase movie."
In a move that Iacocca never attempted—as far as I am aware—Musk also billed the Tesla Model S sedan as the perfect car for surviving anarchy. He revealed that the supercharger network has been taking energy from solar panels and storing it in battery packs. This, in effect, means that Tesla's charging network could survive off the grid, for a limited amount of time. "I was joking that even if there's some zombie apocalypse, you'll still be able to travel throughout country using the Tesla supercharger system," Musk said.
Over time, Tesla intends to build out similar charging networks in Europe and Asia. Each station costs Tesla about $300,000. The goal is to remove so-called range anxiety from electric car drivers while also giving them an edge over the gas guzzling drivers that have to pay for fuel, instead of getting free electricity forever from Tesla.
Before it's here, it's on the Bloomberg Terminal.
LEARN MORE