Beauty Salon Owners Envision a More Attractive Way to Tax Tips
By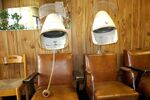 An industry group representing beauty salons and stylists wants to change the way the government taxes tips earned in the beauty industry. It says its proposal would raise revenue for the federal government by getting taxpayers to report more income.
Today, Marc Heller lays out the Professional Beauty Association's argument in Bloomberg BNA (subscription required): Under current law, salon owners pay Social Security and Medicare taxes on workers' tips, even though the income often passes directly from customer to employee. Salon owners process tips paid for with credit cards, but don't retain income on the transactions.
Ninety-two percent of salons have annual sales of less than $500,000, and 82 percent have fewer than 10 employees, according to the PBA, which used U.S. Census Bureau data to arrive at those figures. Taxing these small business owners on transactions for which they don't receive direct income is unfair, the lobbying group says, especially in light of a credit the government gives the food services industry to offset taxes paid by bar and restaurant owners (PDF) on employees' tips. According to Heller:
A dollar-for-dollar credit has been available to employers in the food service industry since 1993 and applies "in connection with the providing, delivering, or serving of food or beverages for consumption, if it is customary for customers to tip the employees, " according to guidance in Revenue Ruling 2012-18 (119 DTR G-4, 6/21/12). The credit is available on all tips above minimum wage.
Congress created the credit at the behest of the National Restaurant Association, as part of the Omnibus Budget Reconciliation Act of 1993 (P.L. 101-508). The restaurant group and the beauty industry groups say a tax credit encourages more accurate reporting of tip income and may ultimately prove to be a revenue raiser for the government.
The PBA wants the same deal. It pointed Heller to an analysis predicting that extending the credit to salons "could generate hundreds of millions of dollars for the government."
How? In a document posted (PDF) on the PBA website, the organization notes an ongoing shift in the industry: Stylists are increasingly working as independent contractors who rent space from salon owners, as opposed to working as payroll employees. Eighty-seven percent of salons work on the independent contractor model, according to the PBA, but those reported sales account for only 36 percent of salon industry revenue. That leads the PBA to suggest "significant underreporting of income in the non-employer segment."
Whether giving employers a tax break will increase reporting from independent contractors is less clear.