Barry Diller, Motivated Seller, Seeks Greater Fool to Buy Newsweek
By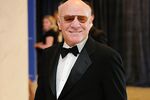 Barry Diller is in the market for a new fool.
On Tuesday, Variety reported that Barry Diller's IAC is actively looking to sell Newsweek, its struggling digital-only publication, and is currently "sending out inquiries to prospective buyers." Not long ago, Diller described operating Newsweek as a "fool's errand." According to Variety, IAC's media group, which includes Newsweek and its sibling digital publication, the Daily Beast, lost $8.8 million in the quarter that ended March 31.
So what would a buyer get in the deal?
Newsweek no longer publishes a print edition in the U.S. But it still has other selling points and assets, including a tablet app, a few international editions, a capable (if much diminished) staff of writers and editors, a strong track record in the conference business, a sleekly redesigned website (which according to Variety had 1.9 million unique viewers in April, down from 2.9 million in January), a chief executive who believes that there is "a tremendous white space in the market for an iconic media property that devotes itself to user-first publishing," a Twitter feed with 2 million followers, a reputation for effective page-view trolling, a storied history (that includes an unrivaled legacy of sending Nikki Finke to Cuba on a chartered plane with $25,000 in cash when the situation demanded it), an active presence on Tumblr, a resilient table of contents, and 100 percent no Howard Kurtz.
On Wednesday, Newsweek/Daily Beast CEO Baba Shetty and Editor-in-Chief Tina Brown sent out a memo to staff, which was obtained by Politico, confirming the news. "So why explore a sale now?" they wrote. "The simple reason is focus. Newsweek is a powerful brand, but its demands have taken attention and focus away from The Daily Beast."