Attention, Passengers: This Is Your Hipster Flight Attendant Speaking
By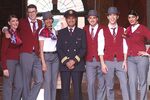 Air Canada says the uniforms for its discount airline Air Canada Rouge should foster a "fresh, comfortable, and vacation-like environment." Apparently that means Brooklyn. Or possibly McKinley High.
The ensembles, which were unveiled on Monday and will appear in cabins when the airline begins operation in July, incorporate fedoras, cardigans, trousers, and gray and red Fluevog brand shoes (which certainly are all vacation-appropriate if you're traveling with buskers in winter). The airline plans to keep the uniforms in service for the next five to seven years. So far, Twitter has enjoyed speculating about the inspiration for their designs.
A strong consensus says television:
Some say Williamsburg, Brooklyn:
Many see coffee shops:
Some fans don't care:
It turns out the airline is cool with all of those descriptions. "Our personality, which is fresh and youthful, seems to be the impression that's coming through," says Renee Smith-Valade, vice president of customer experience at Air Canada Rouge, in an e-mail. "The terms being used so far all have a youthful, on-trend context so that's a success in our books."
Their in-your-face hipness notwithstanding, the new threads are actually money savers. They cost less and have fewer details than Air Canada's more formal uniforms. (Rouge staff are also paid less than their peers at Air Canada: The wage is $22.99 an hour or $20,691 per year, according to the Toronto Star.) Since announcing the new carrier last year, Air Canada says it has received more than 5,000 résumés for flight attendant positions. It's unclear how many applicants will earn the standard-issue fedora.
Before it's here, it's on the Bloomberg Terminal.
LEARN MORE