An Equipment Marketplace That Keeps Landfills Smaller, Profitably
By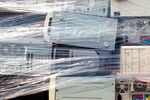 Last month John Tozzi reported on nonprofit B Lab's efforts to identify the social entrepreneurs "creating the most value for the world." Yesterday, the Wayne (Pa.) organization released another ranking that recognized 63 companies for having the most positive environmental impact among its more than 700 B Corps. REfficient, a Hamilton (Ontario) startup that runs a marketplace to buy and sell surplus telecom and audiovisual equipment, was among the B Corps that made the cut.
Founded in 2010 by telecom industry consultant Stephanie McLarty, the 10-employee company has turned a profit and diverted more than 1 million pounds of equipment from North American landfills by finding new homes for materials that range from unused cable boxes to the polyester straps that workers use to secure their ladders to telephone poles. I spoke with McLarty about building a profitable business out of somebody else's trash. An edited excerpt of our conversation follows.
Did you start REfficient with an environmental mission in mind, or were you thinking about the business opportunity?
From the very beginning, it was about both. I saw an opportunity from a business perspective. Larger telecom companies turn over a lot of technology. They're constantly upgrading, and the big guys are constantly buying smaller companies and acquiring assets. Our solution helps them recoup some value from the surplus equipment. More than 50 percent of the product on our website is new, never-used surplus. It was also something I wanted to do because it was good for the environment. When you think about all the work that goes into starting a company, if there wasn't that higher-level purpose of the business, I think I would have given up long ago.
Why become a B Corp?
We first found out about B Corps last fall, and it was really a formalization of what we were already doing. It was a recognition that there are solutions that are good for business and good for the environment, so we said, 'Let's be a part of this.' We're a bootstrapped company, and we've grown very quickly on our own. We've been looking at the possibility of raising money with impact investors, and being B Corp-certified can be a huge advantage.
Beyond cost savings, what do your buyers get?
We offset the carbon emissions from all of our product shipments. We recently got our first customer in Russia, which is great, but obviously there's an environmental impact to ship there. The way we're trying to minimize the impact is offsetting the carbon emissions. We embed the cost of the carbon offsets into shipping. We also collect all sorts of data on waste diversion rates, reuse rates, and carbon footprint, and we give data back to customers so they can use it in their sustainability reports.