Tea Party Groups Sue Over IRS Review of Tax Applications
Tom Schoenberg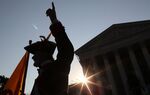 The Linchpins of Liberty in Franklin, Tennessee, and 24 other Tea Party groups sued the Internal Revenue Service over claims the agency violated their constitutional rights by delaying action on applications for tax-exempt status.
The groups, in a complaint filed today in federal court in Washington, accuse the IRS of obstructing their ability to become tax-exempt organizations by singling out conservative groups for "burdensome" scrutiny based solely on their viewpoints or names.
"The lawsuit sends a very powerful message to the IRS and the Obama administration -- including the White House: Americans are not going to be bullied and intimidated by our government," Jay Sekulow, chief counsel of the American Center for Law and Justice, which is representing the groups, said in a statement.
Today's lawsuit has the largest group of plaintiffs of three federal court cases filed since an inspector general's findings that, beginning in 2010, the IRS subjected to extra review anti-tax Tea Party groups and other organizations seeking tax-exempt status.
Allison Price, a Justice Department spokeswoman, didn't immediately respond to an e-mail seeking comment on the lawsuit.
Four congressional committees and the Justice Department have opened investigations into the report.
The lawsuit, which seeks monetary damages, claims the IRS violated the groups' First Amendment and Fifth Amendment rights.
The groups suing include Redding, California-based Patriots Educating Concerned Americans Now, Greenwich Tea Party Patriots of South Jersey Inc., Kentucky 9/12 Project Inc. and Unite in Action Inc., based in Livonia, Michigan.
The case is Linchpins of Liberty v. U.S., 13-cv-00777, U.S. District Court, District of Columbia (Washington).
Before it's here, it's on the Bloomberg Terminal.
LEARN MORE