Tea Party Darling Michele Bachmann Calls It Quits
By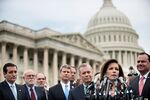 On Election Day last November, around mid-afternoon, word began to spread among Republican political consultants (and soon after that, reporters) that Michele Bachmann (R-Minn.) was in serious danger of losing her congressional seat to a lightly heralded Democratic opponent. This came as something of a surprise because Bachmann had emerged as one of the marquee names in the Republican primaries, a Tea Party warrior who won the once-influential Iowa straw poll and briefly led the field. In the end, she held onto her seat—barely. She won 50.6 percent of the vote in a district that the nonpartisan Cook Political Report rated as a +8 Republican district. In other words, she seriously underperformed, eking out a win in a solidly Republican district.
Since then, Bachman's district has trended even more Republican—the Cook Report rates it +10 Republican for the 2014 election cycle—but she herself has been beset by a series of potential scandals. Both the Federal Bureau of Investigation and the Federal Election Commission are investigating whether she misused campaign funds. On Wednesday, at 3:21 a.m., Bachmann released this video saying that she wouldn't seek reelection:
The obvious comparison here is to former Alaska Gov. Sarah Palin, another Tea Party favorite who skyrocketed to fame and then quit amid mounting ethical problems (although it bears noting that Bachmann, unlike Palin, will serve out the remainder of her term). Liberals will cheer the demise of a prominent foe, but most Republicans will, too: Bachmann's departure from such a conservative district should make it much easier for the GOP to hold on to her seat.
Before it's here, it's on the Bloomberg Terminal.
LEARN MORE