S&P's Big Fraud Case: Does Telling the Truth Matter?
Paul M. Barrett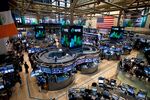 Not long ago, while examining the federal fraud case against Standard & Poor's, we focused on the rating agency's "outrageous, even insulting" defense strategy—one that "just might work." Now the Justice Department has come back to explain why it shouldn't. S&P, the government argues, ought not to escape trial based on what might politely be termed jurisprudential jujitsu.
To review: The government has accused S&P, a unit of McGraw-Hill (MHP), former owner of Bloomberg Businessweek, of helping trigger the 2008 financial crisis by knowingly disguising deteriorating mortgage securities as blue-chip investments. S&P allegedly did this to please the investment banks that issued the securities and paid its fees.
In its defense, S&P argued in late April in federal court in southern California that rival agencies Moody's (MCO) and Fitch issued ratings identical to S&P's yet weren't named as defendants. More provocatively, S&P insisted it cannot be held liable for its prolific claims of integrity and skill, because those boasts were the sort of foolishness that investors don't take seriously. The promotional rhetoric, S&P said, amounted to "classic puffery."
This position, the Justice Department responded on May 20, "would no doubt come as a surprise to many"—"investors, regulators, and legislators among them." S&P now wants the court to accept that the agency's "repeated assurances that its ratings were objective, independent, and uninfluenced by any conflict of interest were 'mere puffery,' entitled to no more weight than an infomercial hawker's claim that his knife will outlast any other." To the contrary, the Justice Department said, "S&P made these representations knowing they were false and misleading and intending they be relied on."
Ponderous as it can be, the civil litigation process allows parties to refine their arguments, step by step, and that's what the government has done in its latest filing. While S&P publicly sold itself as the soul of integrity, officials internally were telling analysts in 2007 to "tone down and slow down" updates of ratings because issuers, such as the now-defunct Bear Stearns, were warning that more realistic ratings would cost S&P business. The government named names. It singled out specific executives who "asked that a key assumption in determining the rating of a CDO [collateralized debt obligation] be changed in an effort to achieve higher ratings for certain CDOs."
If the government defeats S&P's motion to dismiss the suit and thereby gains an opportunity to depose those S&P supervisors under oath, all kinds of illuminating secrets could spill out. That's got to scare S&P. U.S. District Judge David Carter has scheduled a hearing in Santa Ana, Calif., for July 8.
Meanwhile, a smart lawyer I know who is following the S&P case as a spectator points out some relevant developments in other courts. In one instance, a federal judge in New York ruled on May 8 that the Justice Department can use a civil fraud theory against Bank of America (BAC) similar to the one the government is employing in the S&P suit. At issue in both cases is the applicability and meaning of an obscure 1989 statute, the Financial Institutions Reform, Recovery, and Enforcement Act, which allows claims alleging fraud "affecting a federally insured financial institution." While it's not binding precedent for the S&P case, the ruling against BofA sure doesn't help the rating agency.
Separately, S&P, along with Moody's, settled a highly anticipated crisis-era ratings suit that was to have gone to trial in New York May 13. This case was brought by 14 plaintiffs, led by Abu Dhabi Commercial Bank and King County, Wash., alleging that the defendants inflated ratings on so-called structured investment vehicles. The settlement terms remained confidential.
My lawyer friend noted that historically, S&P has taken a hard line in court, rarely settling investor suits. The Abu Dhabi bank case could have offered an embarrassing airing of the same personalities and actions at issue in the Justice Department fraud case. Apparently, S&P didn't want to see that happen. As the old-time broadcasters say, stay tuned.
Before it's here, it's on the Bloomberg Terminal.
LEARN MORE