Madison Square Garden Has Some Thoughts About Those New Garden Plans
By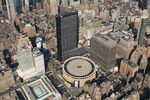 After we posted a slideshow on proposals for rebuilding Manhattan's Penn Station and relocating Madison Square Garden, the arena's management, the Madison Square Garden Co., sent the following statement in an e-mail via spokesperson Kimberly Kerns:
"It's curious to see that there are so many ideas on how to tear down a privately owned building that is a thriving New York icon, supports thousands of jobs, and is currently completing a $1 billion transformation. These pie-in-the-sky drawings completely ignore the fact that no viable plans or funding to rebuild Penn Station and relocate MSG actually exist. Not that long ago, MSG spent millions of dollars and three years exploring a move to the Farley building as part of the new vision for Moynihan Station. That plan collapsed for a number of reasons that did not involve MSG, but did involve many of the same people now pressuring MSG to move, including the Municipal Art Society, which created enormous obstacles to achieving the relocation. The restoration of Moynihan Station has been a 20-year discussion that has led to very little progress or funding. The fact that this exercise does not include anyone who actually has detailed knowledge of this issue or understands the realities of this complex project exposes this exercise for exactly what it is."
Sounds like they're not on board.