In China, Big Data Is Becoming Big Business
Christina Larson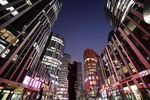 With 1.3 billion people, a quickly expanding urban economy, and rising rates of Internet and smartphone penetration, China generates an immense amount of data annually. If streams of that data can be appropriately sifted, analyzed, and stored, companies seeking to understand China's often-fickle consumers could have access to valuable real-time insights—and perhaps early warning to the next big consumer trends.
At a presentation last week at Peking University's Guanghua School of Management, China's premier business school, associate professor of marketing Meng Su predicted: "China will soon become world's most important data market." He advised job seekers in China and elsewhere to consider training for a new career path as "data scientists," which he described as "one of the most valuable jobs in the next 10 years." Interpreting big data seems poised to become big business.
China's government has signaled its intention to help domestic enterprises develop the infrastructure necessary to store and analyze "big data"—that is, data sets too large to be handled by traditional database-management tools and software. The current Five Year Plan, which aims to stimulate "higher-quality growth," names seven strategic "emerging industries," including next-generation information technology.
Meanwhile, leading Chinese firms, especially Internet companies, have already begun to incorporate big data into their strategies. Jack Ma, founder and then-chief executive officer of China's e-tail giant Alibaba, declared last fall that the company should focus on three pillars of future business: e-commerce, finance (providing loans to small and medium enterprises in China), and data mining. In January, Alibaba underwent a restructuring that, among other changes, created a data-platform division with about 800 employees, as reported in the Chinese financial magazine, Caixin. The Alibaba Group has just begun to scratch the surface of analyzing the reams of user data generated through its business-to-business e-commerce site and its massive consumer-to-consumer platform, Taobao.com.
Professor Su warned, however, that the hype around big data in China may be a case of too much, too soon: "If everyone is talking about something, there is probably already a bubble," at least of expectations, he said. "Most Chinese companies don't own enough data, let alone know how to utilize, analyze, or monetize their data." In other words, a select number of companies in China that do own large quantities of user-generated data—such as Alibaba and Baidu—hold the cards and may profitably sell that valuable information to other vendors.
Before it's here, it's on the Bloomberg Terminal.
LEARN MORE