German Railway Operator Deploys Drones in War on Graffiti Artists
By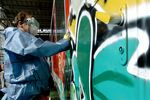 With graffiti- and vandalism-related costs rising to $10 million annually, Germany's national railway operator, Deutsche Bahn, has decided to go high-tech, deploying surveillance drones beginning this summer to police its train depots and maintenance yards, the company said on Tuesday.
The company will be using a fleet of md4-1000s—"quad copters," stealthy four-propeller unmanned aerial vehicles (UAV) that can fly for up to an hour at heights of up to 500 feet and can be equipped with high-resolution and infrared cameras. Developed by Microdrones in Siegen, Germany, an md4-1000 operates in near-silence, theoretically no match for a hoodie-wearing graffiti artist going to town on the side of a train car. The German media report that each drone costs 60,000 euros ($77,250), a figure neither Deutsche Bahn nor Microdrones would confirm.
Deutsche Bahn, Europe's largest railway and rail infrastructure operator, has plenty of ground to cover. "Last year we registered 14,000 incidents of vandalism and graffiti across Germany," a company spokesman said. The initial drone deployment locations are a secret; images from the surveillance drones would be beamed in real time to the company's security teams and that of the Bundespolizei, the federal police force. In Europe, strict data protection laws are enough of a deterrent to keep Deutsche Bahn from recording and storing the footage, even though it will be operating the drones over its own property.
Despite the data protection laws and the fact there is no legislation across the EU on how drones can be operated—in much of Europe, as in Germany, UAVs cannot be flown beyond line of sight of the operator—there is increased interest in using drones for mapping, security, surveillance, and remote inspection of power lines and windmills, says Michael Thoss, marketing manager at Microdrones.
"We're getting a lot of phone calls from prospective customers," Thoss says. That's not good news for graffiti artists.
Before it's here, it's on the Bloomberg Terminal.
LEARN MORE