For Virtual-Currency Cops, Liberty Reserve Was the Easy Part
by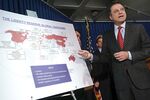 The crackdown on Liberty Reserve, a virtual-currency company described by prosecutors Tuesday as a $6 billion money laundering scheme, points to a new focus for banking regulators in the wake of the financial crisis. But the case probably doesn't point to an easy road forward in authorities' increasing attempts to bring virtual currencies under their control. Targets such as Liberty Reserve and HSBC, the bank that agreed to pay a $1.92 billion fine to settle charges of money laundering in December, present fairly straightforward options for enforcement; it's less clear what the federal government would do if it decided that Bitcoin, the world's most prominent virtual currency, poses a similar threat.
The indictment of Liberty Reserve's alleged masterminds makes it seem as if they were destined to get caught. Three of those named by prosecutors are described as collaborators on a previous virtual-currency venture, Gold Inc., which ran afoul of money laundering laws in 2006. In renouncing his U.S. citizenship after moving to Costa Rica, Arthur Budovsky, one of Liberty Reserve's alleged founders, felt the need to disclose that he was doing so because his new life "might open him up to liability in the U.S.," according to the indictment. Suspicious Costa Rican authorities eventually denied Liberty the licenses it needed to operate legally, prosecutors said, so Budovsky and others reported that they had closed up shop—and then kept operating through shell companies, which evidently didn't fool anyone.
"This is an immensely profound case as regards to the future operation of online currencies," said V. Gerard Comizio, an attorney at Paul Hastings and a former lawyer for federal banking regulators. "On the other hand," he said in interview, "this was the gang that can't shoot straight."
Incompetence is not the only factor that made Liberty Reserve an easy mark. Let's face it: Law-enforcement officials know how to go after a few guys in Costa Rica whose primary business, according to prosecutors, is helping criminals launder money. To get money into or out of Liberty Reserve's system, people would send currency to exchangers in such places as Vietnam or Nigeria, where the  sum would be turned into credits on Liberty Reserve's virtual-currency network. For transactions within the network, Liberty Reserve charged a 1 percent commission, with an extra 75¢ per transaction if users wanted to hide their Liberty Reserve account numbers. The scheme bears a lot of resemblance to classic money laundering cases, said Comizio, in which cash is funneled through poorly regulated jurisdictions to obscure its origins.
Bitcoin, on the other hand, is a digital native designed from its inception to be both untraceable and decentralized. It was programmed specifically to avoid having a core group of people who might be targeted as Budovsky and his alleged co-conspirators were. Bitcoin does have vulnerabilities. One potential choke point is exchanges through which Bitcoin can be converted into traditional currencies, and vice-versa. In March, the federal Financial Crimes Enforcement Network issued rules on virtual currencies requiring these exchanges to register with the government. A court order also halted transfers to Mt. Gox, a popular Bitcoin exchange.
Those who operate virtual currencies are feeling the pressure from Washington. Companies such as Perfect Money and WebMoney have stopped accepting customers in the United States, and some companies are shying away from doing business with Bitcoin exchanges. Also at issue are how regulations could affect consumer Internet companies such as Facebook, EBay, and Amazon, which have their own versions of virtual money.
The federal government has not indicated that it sees Bitcoin in the same light that it viewed Liberty Reserve. But it is distinct from some other virtual currencies in that basic appeal lies in its anonymity, which will inevitably appeal to people who have something to hide. If it does, a federal crackdown won't be as easy as arresting a few ex-pats.
Before it's here, it's on the Bloomberg Terminal.
LEARN MORE