Fixing Government? That's a Job for the Volcker Alliance
By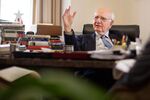 Shelley Metzenbaum is the president of the new Volcker Alliance, an organization launched today by former Federal Reserve Chairman Paul Volcker that's devoted to improving the quality of government administration. From 2009 until this year, Metzenbaum was associate director of performance and personnel management in the White House Office of Management and Budget. I interviewed her today to get a better understanding of what she and Volcker have in mind. Here are some edited remarks:
It's really about the delivery of governance. After the laws are passed, how do you make sure governments really work? Building on lessons learned. Stimulating innovation and research. In a lot of cases there's work that can be done across organizations or levels of government.
We care about how you stimulate innovation in a world where innovation can be difficult. In the private sector you would set stretch targets. You would expect some failures. In the public sector, if you set stretch targets, you have to get people willing to accept that not all those targets will be met.
You often get some of the best minds thinking about theory, policy, debating the theoretical questions.
We're trying to get that level of excitement to public management issues.
The incentive structures of people in the research community are different. The incentive is to publish. It isn't necessarily written in a language that practitioners can skim. It's a gap we're trying to fill.
Paul Volcker has a remarkable expertise and is very concerned about implementation on Dodd-Frank. [Regulations to implement the 2010 act's "Volcker Rule," which restricts banks from proprietary trading, still haven't been completed.] We can help on implementation of that law. Add to the capacity there.
I worked on implementing the Government Performance and Results Modernization Act of 2010. It was signed in January 2011. Agencies are doing the first quarterly performance reporting on selected priority goals. It's the first time it's ever been done on a regular basis. There are 117 goals: 103 agency priority goals and 14 cross-agency goals. They have adopted best business practices.
A lot of people come to the government because they want to make a difference. You can usually motivate people in government by allowing them to make a difference. Take water quality. You have a lot of different levels of government, for-profits, nonprofits, etc., all working to improve water quality. I've seen regional offices of federal agencies very successfully using goals and measurements in actually contributing to solutions to improve water quality. These are targets people tend to care about.
Think about transportation safety. We've done a remarkable job bringing down traffic fatalities. It's a great example of setting goals.
We're a small operation starting out. We'll sort out the size and the mechanisms. We do see ourselves as an alliance, working with existing organizations.
Before it's here, it's on the Bloomberg Terminal.
LEARN MORE